Easing surf ahead of a large swell late week
South Australian Surf Forecast by Craig Brokensha (issued Monday April 19th)
Best Days: Early tomorrow South Coast for the keen, Wednesday morning South Coast magnets, late Thursday South Coast, protected spots Friday and Saturday morning South Coast
Features of the Forecast (tl;dr)
Easing SW groundswell tomorrow with strong W/NW winds at dawn, shifting S mid-late morning
New, mid-period S/SW swell Wed with N'ly tending W/NW winds
Building mix of swells Thu, strong late with dawn W/NW windsm shifting W/SW-SW shortly thereafter
Large SW groundswell Fri with moderate W/SW-SW winds (early W/NW Victor)
Easing, large S/SW groundswell Sat with W/NW tending W/SW-SW winds (variable early on the Mid)
Recap
Friday afternoon's strong pulse of S/SW groundswell was still pushing in strongly on Saturday morning, cleanest in protected spots with a morning W'ly breeze. The Mid Coast dropped back to a tiny 1ft with variable winds.
Sunday was cleaner down South and with fun 3ft sets across Middleton, but a new swell filled in through the day, holding this morning with 3-4ft sets across the stretch with a great offshore wind. The Mid Coast was still offering a tiny wave but mostly a tease.
This week and weekend (Apr 20 - 25)
Today's reinforcing pulse of SW groundswell will ease into tomorrow and a weak cold front will see winds shift from a strong, dawn W/NW breeze around to the S'th mid-late morning creating poor conditions. Try a dawn surf for easing 3ft waves across Middleton. The Mid Coast will be tiny and choppy.
There's no decent swell due in the wake of the front, with mid-period energy to 2-3ft or so due across Middleton Wednesday, tiny on the Mid Coast and as winds shift back to the N'th ahead of another front. Try the swell magnets on the South Coast for a fun wave.
Looking at the 'bombing' low that was discussed last week, and today the low is doing so, dropping 24hPa within 24 hours but the structure has changed since.
What we'll see is is an initial burst of pre-frontal gale to severe-gale NW winds this evening and tomorrow, generating a small pulse of SW groundswell for Thursday morning. Winds will shift from a gusty, dawn W/NW to the SW shortly thereafter, holding all day.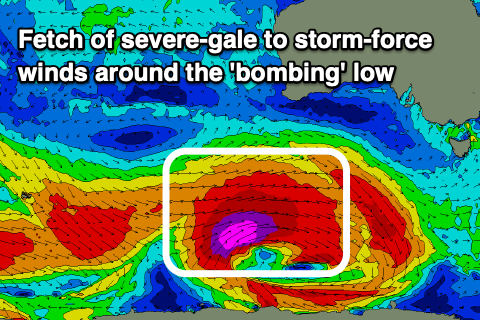 Of greater significance is a fetch of trailing severe-gale to storm-force W/SW winds projecting favourably east-northeast towards us, breaking down as a secondary front fires up its tail, generating an additional fetch of W/SW gales.
We'll see a large, long-period SW groundswell from the initial strongest fetch, building later Thursday and likely hitting 3-4ft across Middleton, peaking Friday morning to 6ft across the Middleton stretch with 8ft sets on the deep water reefs. The Mid Coast looks to come in at an inconsistent 1-2ft working the favourable parts of the tide and winds will be best for the South Coast with a general moderate W/SW-SW breeze (W/NW early around Victor).
The swell will tail off slowly owing to the secondary front slowing the trend, with easing 4-6ft waves across Middleton Saturday morning, smaller and 3-4ft on Sunday.
A more variable wind is due on Saturday across the Mid Coast but with the swell backing off from 1-1.5ft max, early W/NW down South but W/SW-SW from late morning. Winds will shift SE on Sunday, favouring the Mid and adding lots of bumps to the South Coast.
Longer term the outlook will go quiet with smaller, mid-period S/SW swells on the cards into next week as winds improve for the South Coast. More on this Wednesday though.