Active period of surf with favourable winds
South Australian Surf Forecast by Craig Brokensha (issued Wednesday April 14th)
Best Days: Thursday and Friday morning both coasts, Saturday and Sunday mornings down South, Monday down South
Features of the Forecast (tl;dr)
Large W/SW groundswell building later today, easing Thu with a W/NW-NW breeze down South, tending W/SW-SW from late morning, onshore all day on the Mid
New S/SW groundswell building Friday, easing out of the S Sat with E/SE tending E/NE winds Fri AM down South, W/NW Sat AM
Reinforcing SW groundswells for Sun PM and Mon with a W/NW breeze Sun AM, strengthening N/NW tending NW Mon
Recap
The swell dropped right back after Monday's large, offshore conditions, leaving small 2-3ft leftovers across Middleton early, fading into the afternoon as winds strengthened. The Mid Coast saw a building N/NW windswell to 2ft but with strong cross-onshore winds.
Today the surf is small but clean on the South Coast, with a bumpy/choppy 1-2ft wave on the Mid Coast but we should see a solid spike in size across both coasts through the afternoon as swell from the mid-latitude low pushing through the Bight fills in. Cape du Couedic has shot up so expect easy 2-3ft waves on the Mid Coast and 4-5ft sets late down South across Middleton.
This week and next (Apr 15 - 23)
The strong mid-latitude low that's currently passing under us, linked to the large W/SW groundswell this afternoon and tomorrow morning reached such an intensity due to it feeding off the remnants of Tropical Cyclone Seroja once it moved into the Bight.
A strong polar front being dragged up behind the low has also been strengthened more than it normally would thanks to Seroja, generating a good reinforcing S/SW-S'ly groundswell for Friday/Saturday.
The W/SW groundswell should ease back from 4-5ft across Middleton tomorrow with 3ft surf on the Mid Coast along with a moderate W/NW-NW breeze down South in the morning (W/SW-SW from late morning), moderate W'ly on the Mid Coast. This should provide plenty of options, mostly for the keen on the Mid.
Come Friday the reinforcing and better aligned (for the South Coast) S/SW groundswell from the polar front is due to fill in. The S/SW groundswell Friday will be generated by a fetch of SW gales projecting up towards us tomorrow, with stronger severe-gale S/SW winds at the base of the polar front expected to generate an additional S'ly pulse for Saturday morning.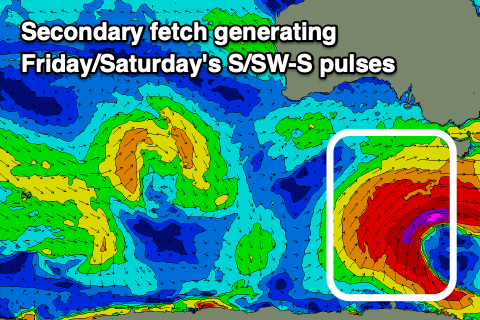 Size wise Middleton on Friday morning will likely be back to 3ft to possibly 4ft, kicking through the afternoon to 4-5ft, then easing from a similar size Saturday morning.
The Mid Coast will ease back to 1-2ft on Friday, 1-1.5ft on Saturday. Winds on Friday will vary, likely average at dawn and E/SE down South, but tending E/NE through the morning ahead of sea breezes, clean on the Mid ahead of weak sea breezes.
Saturday should see a period of W/NW winds around Victor during the morning ahead of sea breezes, SE tending SW on the Mid Coast.
Moving into Sunday and Monday, we'll see some new pulses of SW groundswell from back to back cold fronts firing up on the back of the mid-latitude low/polar front combo.
Fetches of W-W/SW gales should produce moderate sized surf, with the first filling in Sunday, building to a fun 3-4ft across Middleton, with the secondary front generating a secondary, similar sized pulse for Monday. The Mid looks to only be tiny and to 1ft+.
Winds look favourable and W/NW Sunday morning down South, SW into the afternoon and then strengthening N/NW tending NW Monday.
Longer term there's plenty more activity on the cards, but more on this Friday.