Fun tomorrow, then very large into the weekend
South Australian Surf Forecast by Craig Brokensha (issued Wednesday April 7th)
Best Days: South Coast magnets tomorrow, Mid Coast for the keen Sunday, novelty spots down South, Tuesday South Coast, possibly early Wednesday South Coast
Features of the Forecast (tl;dr)
Small swell tomorrow with N tending N/NW winds, NW late afternoon ahead of a change
New S/SW swell Sat with fresh SW winds
Oversized, long-period S/SW groundswell for Sun with gusty S winds, easing, offshore from the NE Mon AM as the swell is still large but easing
Recap
Plenty of swell across the South Coast but conditions were bumpy and lumpy yesterday, a bit better today though still lumpy out there and to 3-4ft across Middleton. The Mid Coast has faded in size with 1-1.5ft leftovers yesterday, back to 0.5ft today.
This week and next (Apr 9 - 16)
We'll see the surf continue to clean up into tomorrow down South with a light to moderate N tending N/NW breeze through the morning, holding until an evening change pushes through. Size wise Middleton will ease back to a small 2ft, best on the swell magnets. The Mid will be tiny to flat.
Friday looks like a lay day with moderate to fresh S'ly winds in the wake of Thursday evening's change and moderate to fresh S'ly winds (S/SE in the morning on the Mid Coast).
The front linked to the change should produce a fun, mid-period S/SW swell for Saturday coming in around 3ft across Middleton, while the Mid Coast comes in at 0.5-1ft max. Winds will remain average though and freshen from the SW as a stronger cold front pushes up from the south, attached to the 'bombing' low, creating poor conditions across most locations.
Of greater importance is the swell from the 'bombing' low, with it still on track to drop over 24hPa of central pressure within a 24 hour period from this afternoon through tomorrow.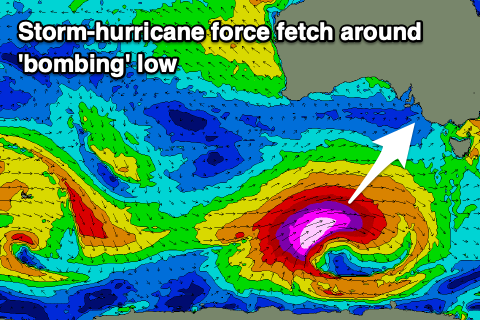 This will occur on the polar shelf, south-west of Western Australia, with a great fetch of storm-hurricane force W/SW winds expected to be projected east-northeast and then north-east up towards Tasmania while slowly weakening.
The slow movement and projection will result in a captured fetch scenario and greater than normal wave growth, resulting in an oversized, long-period S/SW groundswell event for Sunday.
Middleton will be a maxing 8ft at the swell's peak with larger 10ft+ surf across the deep water reefs while the Mid Coast looks to only come in at 2ft on the sets on the favourable parts of the tide. It'll be inconsistent with the south direction though.
Winds will be average and fresh and gusty out of the S'th on Sunday, easing later in the day, swinging rapidly around to NE on Monday morning as a mid-latitude pushes in from the west (the remnants of Tropical Cyclone Seroja, currently off the North West of WA).
The swell will still be large Monday morning as well, easing from the 6ft range across Middleton, 1-1.5ft on the Mid Coast.
Tuesday will become tricky as the mid-latitude low pushes in proper bringing strong to possibly gale-force N tending S winds. We'll have to have a closer look at this on Friday though.
Longer term there's no major swell due from the remnants of TC Seroja, with mid-period swells due into later next week with S'ly winds. More on this Friday.