Improving surf from Wednesday
South Australian Surf Forecast by Craig Brokensha (issued Monday March 8th)
Best Days: Keen surfers Mid Coast tomorrow (low expectations), South Coast Wednesday morning, Thursday morning and the magnets for the keen Friday morning, South Coast Saturday morning
Features of the Forecast (tl;dr)
Inconsistent W/SW groundswell building for the Mid this afternoon, with a stronger SW groundswell tomorrow but with SE-S/SE winds
Easing SW swell Wed and Thu with E/NE and N'ly winds respectively
New mid-period S/SW swell Sat with strengthening N/NW tending W/SW winds, W/SW-SW on Sun
Recap
Improving surf all weekend down South, still a bit lumpy but with plenty of size on Saturday, best yesterday morning on the magnets with a cleaner, straighter though smaller swell.
Today we've got a low point in energy down South with a weak onshore wind, flat on the Mid Coast, though some new inconsistent W/SW groundswell is hitting the Cape du Couedic wave buoy, with tiny 1-1.5ft sets due into this afternoon.
This week and weekend (Mar 9 - 14)
We've got a better wind outlook for the week ahead down South, more so on the backside of the new, inconsistent SW groundswell due tomorrow, which is a plus.
Looking at the coming swell and there's no change to the expected sized with the low generating it first firing up briefly in the Mid Coast's medium-range swell window, then moving into the South Coast's swell window.
We should see the swell filling overnight with a peak tomorrow, keeping inconsistent 1-1.5ft sets hitting the Mid Coast (hopefully after this afternoon's/evening's slight kick), with 4ft sets across Middleton.
Winds are an issue down South tomorrow and moderate out of the SE ahead of fresh S/SE sea breezes, best on the Mid Coast with mostly clean conditions as sea breezes hold off.
Wednesday looks cleaner down South as winds tend E/NE, creating peaky/lumpy conditions with easing sets from 3ft+, tiny on the Mid Coast.
We'll see the swell continue to ease into the the end of the week, dropping from 2ft across Middleton Thursday morning bottoming out Friday to 1ft to maybe 2ft.
Winds Thursday morning look good, variable and tending locally, light offshore ahead of sea breezes, with N/NE tending SE winds on Friday.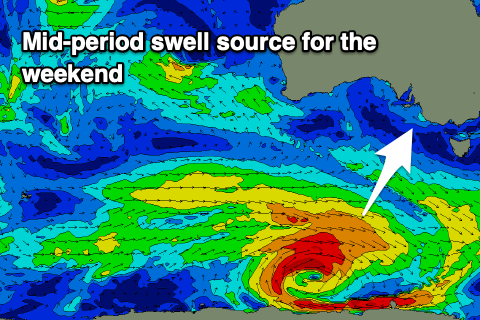 Moving into the weekend, and the mid S/SW swell pegged last update is on track, though winds will be shifty Saturday and strengthen from the N/NW ahead of a late morning W/SW change.
The swell will be generated by a deepening though patchy low developing south of the country tomorrow evening. We'll see a fetch of strong to at times gale-force W/NW winds move through our southern swell window, with the swell due to arrive late Friday and peak Saturday morning.
Middleton should kick to 2-3ft (under what the models are showing) while the Mid Coast looks to see a weak windswell building with the approaching cold front.
No major size is due off this front, with fresh to strong SW tending W/SW winds due through Sunday as the Mid comes in at 1-2ft, with 2-3ft surf continuing down South.
This front looks to be ahead of a stronger frontal progression through the weekend and early next week, producing a bit more swell energy into early-mid next week but winds look to be onshore for the South Coast (again) and there'll be no major size on the Mid Coast. More on this Wednesday and Friday.