Wednesday, 24 February 2021
The Mid Coast's run has come to an end
South Australian Surf Forecast by Craig Brokensha (issued Wednesday February 24th)
Best Days: South Coast Saturday morning
Features of the Forecast (tl;dr)
Easing S/SW swell tomorrow with increasing S/SW winds
New mid-period S/SW swell Fri but with mod-fresh SE tending stronger S/SE winds, easing Sat with morning E/NE winds
Strong mod-large SW groundswell filling in Sunday with mod-fresh S/SE winds
Recap
Good surf on the Mid Coast again yesterday with our new W/SW groundswell Monday afternoon continuing to offer 2-3ft sets with favourable morning winds. The South Coast was solid but remained poor, better today with the swell still 3-4ft under a light E/NE breeze. The Mid Coast was clean as a whistle but dropping from 1-2ft.
This week and weekend (Feb 25 - 28)
And thus ends our extended run of fun waves on the Mid Coast. I hope you made the most of it as it doesn't look like we'll see much in the way of surf in the gulf for the next week and a half or so.
The South Coast will also be hit and miss from next week as we a slow moving and broad high pushing in from the west, bringing persistent winds from the south-eastern quadrant.
But firstly coming back to the coming days and we'll see the size continue to tail off tomorrow across both coasts, tiny on the Mid and easing 2ft to possibly 3ft sets across Middleton.
Winds will revert back to the S/SW down South, creating bumpy conditions, strengthening through the day, with S/SE-SE tending SW winds on the Mid.
A slight kick in mid-period S/SW swell is now on the cards for Friday, generated by a small, poorly structured system firing up south-west of us this afternoon. A kick back to 3ft is due across Middleton on the sets, easing from 2ft to possibly 3ft Saturday morning. The Mid Coast won't see any size owing to the southerly direction.
Winds are due to swing back to the SE on Friday morning ahead of strong S/SE sea breezes, creating poor conditions down South, more variable and out of the E/NE Saturday morning. This looks to be the window for the South Coast.
Late Saturday we should start to see hints of long-period S/SW groundswell arriving across the state, though the bulk of the swell is due Sunday.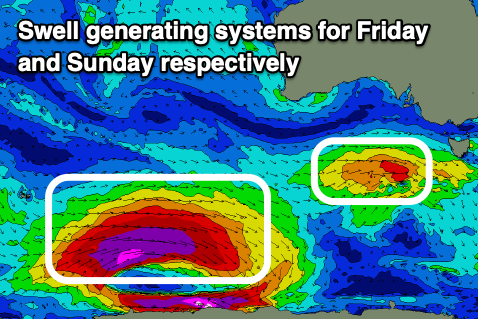 The source of this swell is another 'bombing' low which developed around the Heard Island region yesterday as Tropical Cyclone Guambe was absorbed into the westerly storm track.
A fetch of unfavourably aligned storm-force W'ly winds were generated through yesterday afternoon with a better fetch of severe-gale to storm-force W-W/NW winds due to be generated south-west of WA today. The low will weaken while continuing on a slight east-southeast track tomorrow, breaking down well south of us on Friday.
Size wise the South Coast should see strong 3-5ft sets across Middleton on Sunday, though inconsistent with tiny 1ft waves max on the Mid Coast. Winds will remain an issue as a trough followed by the eastern end of the strong high moves through Saturday afternoon, leaving moderate to fresh S-S/SE winds into Sunday.
The swell will ease through Monday and Tuesday with a weaker, morning S/SE breeze on the former, possibly E/SE on the latter but fresh and gusty. Come Wednesday we may see winds tend E/NE but there'll be no size left across the coast.
Longer term lighter and more favourable winds are due Friday though next weekend but with no decent swell. More on this Friday.