Wednesday, 25 November 2020
Large W/SW swell on our doorstep
South Australian Forecast by Craig Brokensha (issued Wednesday 25th November)
Best Days: Mid Coast tomorrow afternoon, both coasts Friday, South Coast Saturday morning, South Coast Tuesday morning, Mid Coast next Wednesday
Recap
The Mid Coast continued to see tiny 1-1.5ft waves yesterday for the keen, while the South Coast was small to tiny and with a light to moderate onshore wind, freshening through the day.
Today a fun new S/SW swell has provided a little kick in size on the South Coast with great winds and conditions for the exposed beaches, while the Mid Coast has dropped back to 0.5-1ft.
This week and weekend (Nov 26 - 29)
Into tomorrow we'll see a large, strong W/SW groundswell filling in across the state, generated by a significant low that formed south-west of Western Australia earlier this week.
When forecasting swells and surf, I'm mostly looking at forecast storms, fetches and tracks, but to verify that the storm reached the intensity indicated by the models there are a couple of satellites which measure the ocean surface roughness from high in the atmosphere.
This is then converted to give an observation of wind speed in the open ocean, which can then be compared to the forecast data.
Satellite observations of the current swell producing low have picked up a great signature of severe-gale W/SW-W/NW winds. This confirms the model forecasts and winds are actually if anything, a touch stronger than forecast.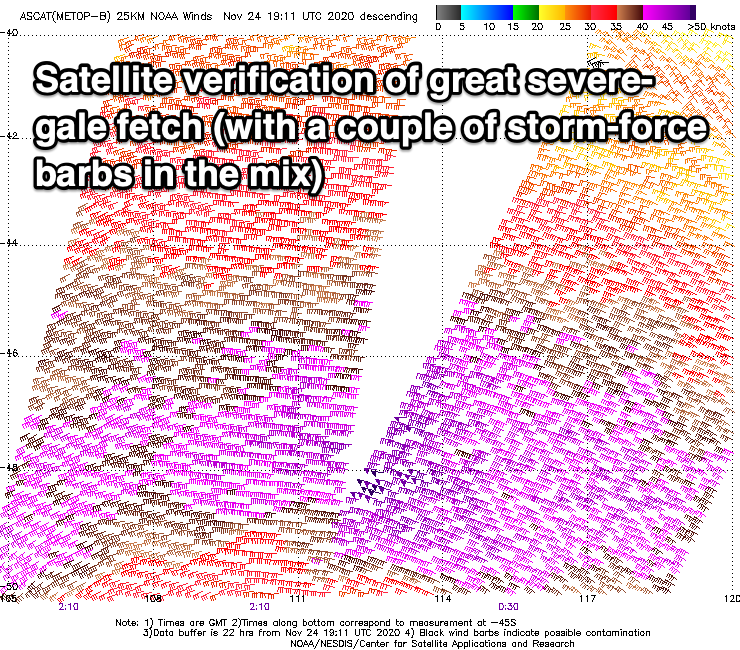 This initial fetch has generated a large open ocean westerly swell, and during today we'll see severe-gale W-W/SW winds continuing to be projected towards Tasmania, through our south-western swell window.
We should see the large, strong W/SW groundswell arriving mid-morning tomorrow, and peaking into the afternoon with the Mid Coast kicking to a consistent 2-3ft with minimal tidal movement and 5-6ft across Middleton with larger waves on the deep water reefs and exposed breaks. The early morning will be small to tiny ahead of the swell.
Winds will favour the Mid Coast as a weak surface trough moves through this evening, leaving SE winds tomorrow morning, S/SE though the day.
Friday looks much cleaner down South with a N/NE offshore and easing surf from 4-5ft across Middleton, with fun 2ft waves on the Mid Coast. The Mid will clean early with a light E/NE-NE breeze but become a little bumpy as winds shift N and then N/NW through the morning. We'll likely see winds go variable into the afternoon, keeping conditions relatively clean.
As we move into the weekend, we've got a couple of tricky troughs moving through the region, with one such system moving in and sitting just over us Saturday morning, likely bringing N/NE winds to the South Coast (check back Friday) and gusty E/SE winds to the Mid.
We'll be seeing the swell from tomorrow and Friday easing though with tiny leftovers on the Mid to 1ft+, and easing, fun 3ft sets across Middleton.
Sunday looks poor as the trough moves east, bringing in strong S/SW tending S winds behind it.
Next week onwards (Nov 30 onwards)
As touched on in Monday's update, a strong, slow moving polar low is due to develop south-west of WA Friday, generating a fetch of W/SW gales which will weaken while stretching out and projecting east.
We're then expected to see a weaker front spawning off the low, projecting towards the Bight and then across us Tuesday afternoon.
The initial polar fetch will generate an inconsistent though moderate sized SW groundswell that's due to build later Tuesday and peak Wednesday, mixed in with some weaker W/SW swell. Winds look S/SE on Wednesday with the mix of swells, improving slowly for the South Coast Thursday, but we'll review this again Friday.