Friday, 18 September 2020
Improving though windy weekend, stormy next week
South Australian Forecast by Craig Brokensha (issued Friday 18th September)
Best Days: Selected spots South Coast tomorrow, Sunday South Coast (more so morning), Mid Coast for a grovel Monday afternoon, Tuesday and Wednesday, protected spots down South Tuesday and Wednesday
Recap
Poor, junky and sloppy conditions across the South Coast yesterday, similar this morning but slighlty better and improving across those breaks that handle the east-northeast breeze. The Mid Coast has gradually faded in size and is effectively flat today.
This weekend and next week (Sep 19 – 25)
We've got much better waves on the cards for the weekend down South with the arrival of a new S/SW groundswell and with more favourable winds.
A broad mid-latitude low that's soaking the inland and west of the state will slowly move east over the weekend, swinging winds more offshore though still NE for the most part and fresh tomorrow. This will favour selected spots over others, more favourable and N/NW Sunday morning, becoming stronger through the day and swinging more N.
Looking at the swell and it's been generated the last couple of days by a good, broad fetch of polar W'ly gales, and we should see the swell building tomorrow ahead of a peak around midday/into the afternoon. Middleton should build to 3ft to occasionally 4ft, then easing back from 3ft on the sets Sunday.
With the swell out of the south, the Mid Coast will remain flat.
Monday will become smaller again down South but the mid-latitude low will move in from the west, bringing strong N/NW tending NW winds and likely blowing out the surf (not ideal). Middleton looks small and to 2ft so give it a miss.
The action will then swing from the South Coast to the Mid Coast as the low projects various fetches of strong to gale-force W/SW winds under WA and through the Bight Sunday but more so Monday and Tuesday.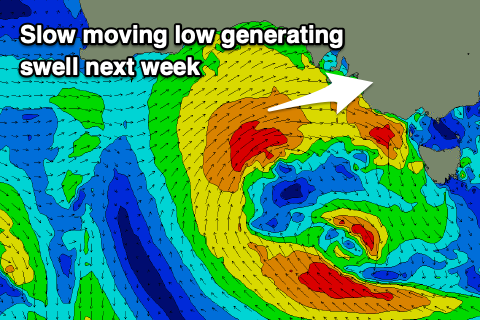 The slow moving nature of the low will generate a large, windy W/SW swell event that will build Monday and peak Tuesday.
Size wise Monday's swell will be stormy and building to 3ft or so on the Mid Coast, with Tuesday likely to be more around 4ft and still stormy.
The South Coast isn't likely to see any size Monday but build Tuesday out of the W/SW, reaching 3-5ft from Middleton to Goolwa, similar Wednesday before easing Thursday.
Winds Monday, (as touched on above) will be strong from the N/NW tending W/NW, holding Tuesday out of the W/NW and with strength, more W/SW on Wednesday. Protected spots will be cleanest down South but smallest. We'll likely see winds swing back to the NW on Thursday, but more on this Monday. Have a great weekend!