Monday, 4 May 2020
Plenty of west swell but with the wind
South Australian Forecast by Craig Brokensha (issued Monday 4th May)
Best Days: Swell magnets keen surfers tomorrow down South, Wednesday for the desperate down South, Friday down South, Sunday morning down South
Recap
Stormy and poor waves across all locations on Saturday with 2-3ft waves on the Mid Coast and 4-6ft waves down South.
Our new S/SE groundswell for Sunday morning kept large surf hitting the South Coast and lit up a few funky spots with easing and workable onshore winds. The Mid Coast was cleaner and back to 1-2ft for the keen.
Today the swell has backed right off but conditions have cleaned right up down South with easing 2-3ft sets along Middleton, tiny on the Mid Coast.
This week and weekend (May 5 - 10)
We've got another day of great conditions down South tomorrow with offshore N/NE tending variable winds, but swell wise, there'll hardly be anything left from the weekend.
A very inconsistent and long-range W/SW groundswell will likely provide the odd set across the swell magnets, generated by a strong low that fired up south-east of South Africa last week.
Other than that expect 1ft to occasionally 2ft sets off Middleton, 2ft to rarely 3ft at Waits and Parsons, tiny on the Mid Coast.
Wednesday looks to be the smallest of the week as winds strengthen from the N'th ahead of a strong mid-latitude low.
A very small spike of new long-period S/SW groundswell is likely across the South Coast Thursday morning, produced by a tight and intense but south-east tracking low forming south of WA this evening.
A fetch of severe-gale W-W/NW winds will track south-east through our swell window, limiting the expected peak in size to 2ft+ off Middleton Thursday morning. Unfortunately winds will become tricky and likely blow out the swell with strong N/NW-NW breezes, shifting W/NW through the day.
This will kick up a building NW windswell on the Mid Coast likely to 2-3ft into the afternoon.
The windswell will be replaced by a large and powerful W'ly groundswell into Friday, produced by a very intense mid-latitude low moving in from the west (mentioned above).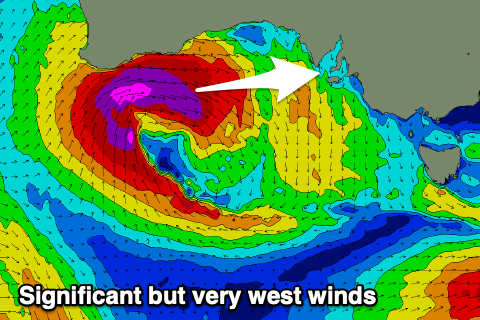 This low will develop west-southwest of WA and then slip south-east and push under their state and through the Bight.
A tricky but significant fetch of severe-gale W'ly winds are forecast to be generated through the Mid Coast's western swell window, with it weakening while approaching us Thursday and then slipping south-east.
Due to the slim fetch width and northward position, the South Coast isn't expected to see much size owing to the blocking effects of Kangaroo Island with Middleton likely to be only 2-3ft, a bit bigger towards Goolwa. The Mid however looks solid and 3ft+.
Winds should ease a touch into Friday as the front slips south-east, but fresh to strong NW winds will create poor conditions on the Mid, clean all day in protected spots down South, though these locations will be the smallest.
A secondary front firing up on the back of the initial low should generate a reinforcing mix of mid-period W/SW and SW swell Saturday with a S/SW groundswell for Sunday.
The groundswell will be generated by a the strongest fetch of S/SW gales through our swell window on Friday and should provide 3-4ft sets off Middleton Sunday, smaller Saturday.
The Mid Coast will continue around 2-3ft on Saturday, easing back to 2ft+ Sunday. Winds will remain an issue though and strong from the W/SW on the former, better and W/NW early Sunday morning.
Longer term smaller swells are on the cards for early-mid next week, but we'll have another look at this Wednesday.