Friday, 24 April 2020
Make the most of the coming days
South Australian Forecast by Craig Brokensha (issued Friday 24th April)
Best Days: Later today on the Mid, tomorrow, Monday, Tuesday South Coast
Recap
After Wednesday's pumping day of surf we saw early OK conditions on the Mid and 2ft+ of swell, but conditions quickly deteriorated, remaining poor all day. The South Coast faired better with great conditions and plenty of swell to 3ft+ off Middleton, easing through the day as winds shifted more NW.
Today the swell has reached a low point with clean conditions in protected spots down South, bumpy and to 1-2ft on the Mid.
This weekend and this week (Apr 25 – May 1)
This afternoon our new W/SW groundswell should start to fill in, offering more solid and consistent 2ft sets across the Mid Coast as winds ease and possibly even tend offshore late.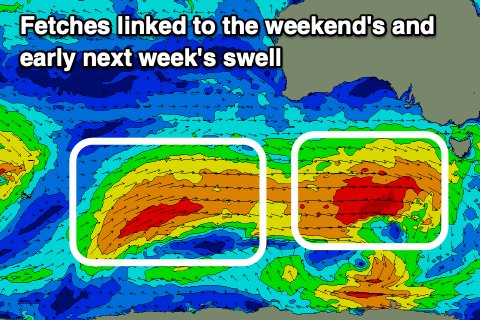 This swell, generated by a strong but distant mid-latitude frontal progression that projected towards and then under WA while weakening should peak tomorrow morning to 2ft to occasionally 3ft on the Mid Coast, with 3ft to possibly 4ft sets down South.
Into the afternoon though we've got an earlier arriving SW groundswell, with the strengthening cold front linked to it now currently south-west of us.
It moved a little quicker than anticipated and we should see a slightly better pulse down South, maintaining 3-4ft sets, though not ideally aimed for the Mid.
Conditions tomorrow will be great for both coasts early and out of the N//NE (NE on the Mid) swinging more N/NW through the day down South but possibly holding from the N/NE-N all day on the Mid.
Come Sunday the swell will ease back from 1-2ft on the Mid and 3ft+ down South but with a change moving through on dawn, bringing onshore winds to both coasts.
Now, later in the day Sunday we may see hints of new inconsistent SW groundswell, but Monday is the best chance to see this and the smaller, and more consistent mid-period energy.
The long-range energy has been generated the past couple of days by a distant polar low and multiple fetches of severe-gale W'ly winds just east of Heard Island. This low is now weakening but a cold front spawning off it will project slowly towards us over the weekend, generating the additional and more consistent SW swell energy.
We should see both swells peaking Monday morning with 3-5ft sets off Middleton and small 2ft waves (odd bigger one) across the Mid Coast on the favourable parts of the day.
Winds look great and locally offshore ahead of weak and variable sea breezes, best down South Tuesday as the swells ease with fresher N'ly winds.
One more W/SW groundswell is due to fill in Wednesday, but this will be overridden by local windswell as a deep low moves in from the west. The lows movement and intensity as it moves in from the west and possible stalls just south-east of us is still being resolved by the major forecasting models, so we'll have to look at the swell potential next week. It looks mostly onshore, cold and windy though. Have a great weekend!