Monday, 2 December 2019
Good waves in protected spots through the week
UNLESS YOU LIVE AT THE BEACH, PLEASE DON'T TRAVEL TO SURF
COVID-19 is changing the way we think about surfing. Travelling to the surf now means you're putting an unnecessary strain on the resources of small regional communities. So, please stay home. If you live near the beach and want to surf, please maintain a healthy spacing in the lineup, don't hang in the carpark, and keep your surf sessions shorter to allow others the opportunity to get wet. Above all, stay happy, healthy and look out for one another.
South Australian Forecast by Craig Brokensha (issued Monday 2nd December)
Best Days: Protected spots South Coast early tomorrow, Wednesday morning, Thursday morning, keen surfers Saturday morning, exposed beaches Sunday morning
Recap
A fun window of smaller, clean conditions on the South Coast Saturday, tiny and bumpy on the Mid. Sunday was OK again for the early but on the small side, bumpy and 1-2ft on the Mid, building into the afternoon with strengthening onshore winds and wintery weather.
Today conditions are cold and average with bumpy 2-3ft waves across the Mid Coast, 4-5ft and a mess on the South Coast.
This week and weekend (Dec 3 - 8)
We're currently seeing a flurry of strong and cold polar fronts pushing up and across us, bringing cold, wintery weather and plenty of swell.
The coldest of the fronts moved through yesterday and the swell linked to this front has filled in today, mixed in with plenty of windswell across the South Coast.
We're still expected to fall slightly between fronts tomorrow morning, with the swell backing off slightly from today, back to 4ft or so off Middleton (2ft Mid Coast), though another broad, strong and elongated polar front will project a fetch of strong SW winds up and into Victoria through the day.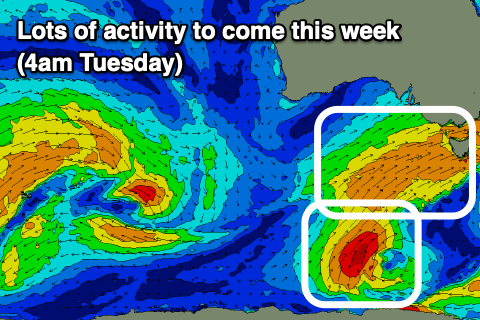 This will see the swell kicking in size and power later in the day, though peaking through Wednesday across Middleton with sets to 4-5ft as the Mid Coast drops back to 1-2ft with the swell coming from the S/SW.
From here the surf should back off slowly, though continued frontal activity through our southern swell window, south-west of Tassie through Wednesday, Thursday and Friday should produce a reinforcing S/SW swell for Saturday.
Coming back to the local winds and protected spots on the South Coast will be best with an early fresh W'ly likely tomorrow, but for the most part W/SW, shifting SW into the afternoon. Wednesday looks better with W/NW-W winds holding all morning and early afternoon, shifting W/SW-SW mid-afternoon.
Thursday morning should see W/NW winds again with the S/SW swell dropping back to 3-4ft off Middleton, shifting SW-S/SW into the afternoon, S'th all day Friday. The Mid Coast will only clean up into Friday with a morning S/SE breeze, but there'll be no size left, with tiny 0.5-1ft peelers.
Moving into the weekend, the new S/SW swell should keep Middleton around 3ft+ and conditions will start to improve from Friday with a light morning E'ly breeze, much better Sunday with N/NE offshores and easing 2ft+ sets off Middleton, better at Waits and Parons.
Longer term there's nothing significant on the cards for next week as a large and blocking high moves in from the west, bringing persistent S/SE winds but no decent groundswell. More on this Wednesday.