Monday, 7 October 2019
Workable waves for the keen this week
South Australian Forecast by Craig Brokensha (issued Monday 7th October)
Best Days: Keen surfers South Coast Wednesday morning, South Coast Thursday morning, keen surfers South Coast magnets Saturday morning
Recap
A new swell and fun conditions for spots that like the north-east breeze on the South Coast Saturday, better in protected spots on Sunday with the swell easing and strong W/NW winds, easing into the afternoon.
The Mid Coast was an infrequent and clean 1-1.5ft on Saturday, but pulsed a little with the incoming tide, poor and onshore Sunday.
Today the South Coast was OK with small clean waves in protected spots, tiny and onshore across the Mid Coast again.
This week and weekend (Oct 8 - 13)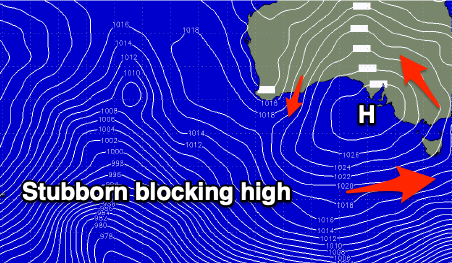 We've got plenty of swell on the cards this week but it'll have a bit of south in it, and winds won't be great (though workable) for the South Coast as a strong and stubborn high sits just south of us until the weekend.
Tomorrow will be poor as a weakening polar front pushes through bringing strong S/SW tending S winds and a mid-period increase in SW swell for the afternoon.
Size wise, Middleton should reach 3ft, tiny and 1-1.5ft on the Mid Coast.
The swell should steady Wednesday and maintain 3ft on the South Coast as the Mid drops back to 1ft, and conditions will become a little cleaner. A light morning E/NE breeze is due across the South Coast, creating peaky/lumpy conditions, clean on the Mid Coast.
Into Thursday a good pulse of new S/SW groundswell is due, generated by a strong polar front that's currently developed south-southwest of WA.
This low is generating a fetch of gale-force W/SW winds and is expected to reach near storm-force at its core this afternoon and evening while pushing quickly east through our southern swell window.
A moderate sized long-period S/SW groundswell should be seen, filling in Thursday and peaking to 3ft across Middleton through the day, tiny on the Mid Coast.
Winds are looking a touch better than Wednesday and more E/NE-NE through the morning ahead of sea breezes.
Come Friday winds will unfortunately remain out of the E/SE-SE through the morning and moderate to fresh, creating poor conditions as the S/SW swell eases.
Into the weekend there's no significant swell due as the blocking high puts a stop to any major swell generating systems moving through our swell window this week.
Cleaner conditions should be seen Saturday with a NE offshore but small peaky mix of swells easing from 1-2ft off Middleton, better across the swell magnets.
Sunday will be clean with a N/NE offshore but tiny swell, and a trough may move through during the afternoon.
There's better swell activity on the cards into next week as a couple of larger and stronger storms fire up south-west of WA late this week and over the weekend. The first significant swell looks to be long-period and moderate to possibly large, filling in next Wednesday but with S/SE winds. More on this Wednesday.