Wednesday, 14 August 2019
Fun waves on the South Coast magnets, larger and windier next week
South Australian Forecast by Craig Brokensha (issued Wednesday 16th August)
Best Days: Experienced keen surfers both coasts tomorrow, Saturday and Sunday South Coast (keen surfers Mid Coast Saturday morning)
Recap
Tiny to flat conditions on the Mid Coast yesterday, a touch bigger today but bumpy with the northerly wind, better down south at Waits and Parsons with a fun mix of smallish swells and light winds.
Today's Forecaster Notes are brought to you by Rip Curl
This week and weekend (Aug 15 - 18)
The surf will start tiny tomorrow morning and clean on the South Coast with a moderate N/NW offshore wind, persisting out of the N'th into the afternoon while freshening. A new inconsistent W/SW-SW groundswell is due to build through the afternoon, reaching 1-1.5ft on the Mid Coast later but bumpy, better down South with inconsistent 2ft to maybe 3ft sets along the Middleton to Goolwa stretch late, 3-4ft at Waits and Parsons.
A peak in size is due Friday morning to a similar size (2-3ft off Middleton and 1-1.5ft on the Mid Coast). Winds are now looking to hold into Friday morning as a surface trough stalls slightly with early NW-W/NW winds down South, shifting S/SW later morning but without much strength.
The weak nature of the trough will result in winds switching back to the N/NE tending N/NW on Saturday ahead of an approaching and strengthening cold front but size wise we'll be looking at small and inconsistent waves easing from 2ft off Middleton on the sets, 1ft on the Mid Coast.
Looking at the strong cold front moving in Saturday, we'll see this system move through early Sunday morning bringing a strong W/NW tending W/SW breeze kicking up an increase in swell on the Mid Coast to 2ft+ but with poor conditions.
The South Coast will be cleaner in protected spots but minimal in size (possibly 1-2ft off Middleton), bumpier and building into the afternoon.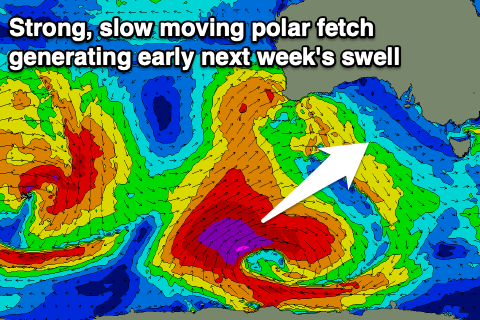 Of greater importance are the earlier developments of this frontal progression, with it moving in from the southern Indian Ocean and splitting in two south-west of WA. A slow moving polar fetch of severe-gale SW winds will be generated in our south-western swell window, projecting north-east towards us while slowly easing in strength.
A large and long-period SW groundswell will result, building Monday to an easy 5-6ft off Middleton with the Mid Coast offering mid-period swell to the 3ft range on the sets.
Winds look onshore and from the W/SW-SW, but the Victor region may see an early W/NW breeze as the swell builds.
Tuesday looks better with a strengthening W/NW offshore for protected locations as the swell slowly eases. There's plenty of follow up swell for the rest of the week with winds from the western quadrant, but more on this Friday.