Monday, 12 August 2019
Smaller, cleaner surf, building from late in the weekend
South Australian Forecast by Craig Brokensha (issued Monday 12th August)
Best Days: South Coast tomorrow morning, South Coast Thursday afternoon, keen surfers Friday morning (beginners Mid Coast), South Coast magnets Saturday
Recap
Large, stormy waves on the South Coast all weekend, bumpy and to 2-3ft on the Mid Coast Saturday, fun for keen surfers. The swell eased back to 2ft yesterday but was poor with gusty onshore winds.
The surf has cleaned up a touch this morning with lighter winds, backing off in size down South, clean on the Mid but back to 1ft.
Today's Forecaster Notes are brought to you by Rip Curl
This week and weekend (Aug 13 - 18)
Tomorrow will be the best day to surf down South over the coming couple of days as conditions clean right up under a light to moderate N/NW offshore, possibly swinging less favourable out of the E/NE through the afternoon.
Size wise, we're looking at smaller, easing surf from 2ft to maybe 3ft off Middleton, more to 3ft at Waits and Parsons. The Mid Coast will be tiny to flat.
Wednesday will be nice and straight with a fresher N/NE tending N/NW wind but the surf tiny and to 1-1.5ft off Middleton, maybe 2ft at Waits and Parsons in the morning.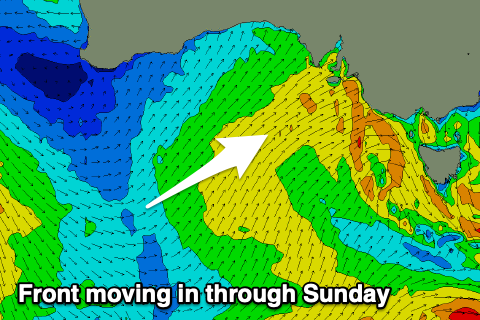 Our new inconsistent W/SW-SW groundswell for later in the week is still on track, but the size looks a bit smaller than expected on Friday.
A slow moving and dipping low south-east through our swell window to the south-west of WA has been generating a fetch of strong to gale-force W/SW winds in our swell window.
The secondary intensification to severe-gale force strength winds didn't occur and we're now expected to see a little less size. The swell is due to build later Thursday and reach 2-3ft by dark off Middleton, but inconsistent with 1-1.5ft sets possible on the Mid Coast.
Friday should see similar sized surf across both coasts, easing into Saturday from 2ft to maybe 3ft along the Middleton stretch, tiny on the Mid Coast and to 1ft.
Winds on Thursday will be good most of the day with a gusty but easing N/NW breeze, giving into a late S'ly change as a trough moves through. This may be after dark though.
Friday looks average with winds tending back to the E-E/NE through the morning, not ideal, though clean on the Mid Coast for beginners.
Saturday looks good again with offshore N/NE winds, best for the swell magnets with the easing swell.
Later in the day Saturday, but more so Sunday a new SW groundswell is expected to fill in, generated by a board fetch of pre-frontal W/NW winds moving in and under WA later this week.
The front will move in on Sunday though, generating a post-frontal SW fetch and additional mid-period SW swell later in the day and Monday.
Size wise, Middleton looks to come in around 2-3ft Sunday morning with 1ft waves on the Mid Coast under a strong NW breeze, giving into a W/SW change mid-late morning. This will kick up a windswell on the Mid Coast 2ft+ into the afternoon, but more on this in Wednesday's update.
Longer term a much more significant but still distant polar storm is forecast to develop by GFS on the weekend, but not ECMWF so we'll have to keep an eye on this through the coming week.