Friday, 9 August 2019
Poor, wind and solid weekend down South, improving but easing next week
South Australian Forecast by Craig Brokensha (issued Friday 9th August)
Best Days: Mid Coast keen surfers Sunday morning (low expectations) South Coast Tuesday, South Coast Thursday afternoon and protected spots Friday
Recap
Building stormy surf on the Mid Coast through yesterday with strong to gale-force W/NW winds, small on the South Coast though building a little later in the day, peaking this morning to the 4-5ft range off Middleton with cross-shore winds.
The Mid Coast has dropped back to the 3ft range with a drop in winds, but conditions remain generally poor.
Today's Forecaster Notes are brought to you by Rip Curl
This weekend and next week (Aug 10 - 16)
Yesterday afternoon we saw the strongest of the cold fronts moving through from the west, but a secondary slightly weaker but still significant front is now approaching from the south-southwest. A fetch of strong to gale-force S/SW winds are being projected up and into us, generating a moderate to large S/SW swell tomorrow.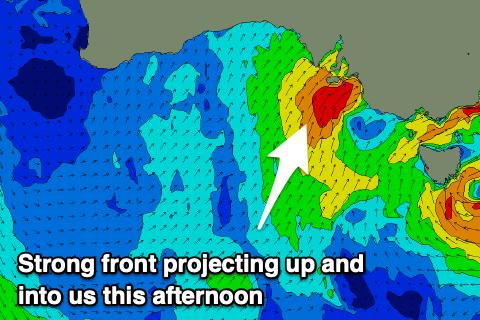 Middleton looks to come in around 5-6ft but with strong SW winds, 2ft to occasionally 3ft on the Mid Coast and choppy.
A slight drop in swell is due Sunday but a secondary front projecting a weaker fetch of strong S'ly winds off the West Coast of Tasmania Saturday evening and Sunday morning will generate a reinforcing mid-period S'ly swell, keeping 4-5ft waves hitting Middleton, easing back slowly through Monday and more so Tuesday.
The Mid Coast will drop in size Sunday from 1-2ft as the swell swings more southerly though with persistent S/SW winds that may tend S'ly for a period through the morning.
The South Coast will remain a mess with strong but easing S/SW tending S'ly winds, lingering out of the S/SE on Monday.
Winds are still expected to go light N'ly on Tuesday but the surf will be small and weak, easing from 2ft to maybe 3ft off Middleton, more around 3ft at Waits and Parsons. Wednesday will see a fresher N'ly offshore but small to tiny leftovers.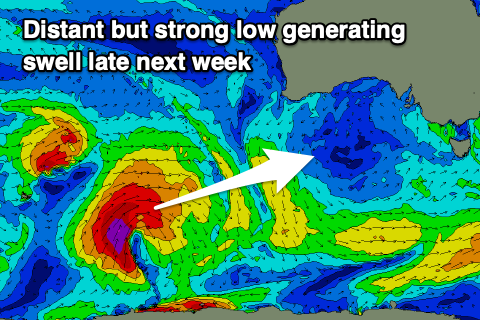 Our new inconsistent W/SW-SW groundswell for the end of the week is still on track, generated in the south-east Indian Ocean over the weekend. A strong low will dip south-east into our swell window on Saturday evening, producing a good but distant fetch of strong to gale-force W/SW winds, with the tail now forecast to strengthen to severe-gale while projecting a little closer towards us, south-west of WA.
The low will weaken south of the country early next week, but the movement towards us should help the consistency a little as well as holding off the swell decay.
The groundswell is due to arrive Thursday, building into the afternoon to an inconsistent 2-3ft on the South Coast by dark off Middleton, 1ft to possibly 1.5ft on the Mid Coast, peaking Friday to 3ft off Middleton and a similar 1-1.5ft on the Mid Coast.
Strengthening N/NE tending N/NW winds on Thursday will favour the South Coast, while a W'ly change is due to move through overnight as a mid-latitude front pushes in, bringing W-W/NW winds down South and poor onshore waves on the Mid along with an additional W/SW swell to 2ft+.
This mid-latitude front looks to be followed by additional, stronger systems creating plenty of swell into next weekend and beyond, but more on this Monday. Have a great weekend!