Wednesday, 10 July 2019
Large and windy swells on the way
South Australian Forecast by Craig Brokensha (issued Wednesday 10th July)
Best Days: Protected spots South Coast tomorrow and Friday morning, Sunday morning, Tuesday morning, Mid Coast later Saturday and Sunday morning for keen surfers
Recap
Small, though fun waves on the South Coast magnets for the keen yesterday morning, bumpy and 1-1.5ft on the Mid Coast. Today the South Coast was clean but even tinier, while the Mid Coast is seeing a mix of wind affected swells to 1-1.5ft.
Winds will continue to strengthen through this afternoon, kicking up a building NW windswell ahead of larger swells to tomorrow.
Today's Forecaster Notes are brought to you by Rip Curl
This week and weekend (Jul 11 – 14)
From tomorrow we'll see the surf increasing in size and power as a series of strengthening mid-latitude fronts move in from the west and across us. This will generate large surf, with a secondary strong and powerful S/SW groundswell due to follow up early next week but more on this below.
Currently a vigorous mid-latitude front and low are moving in through the Bight, in our western swell window, producing fetches of strong to gale-force W/SW winds.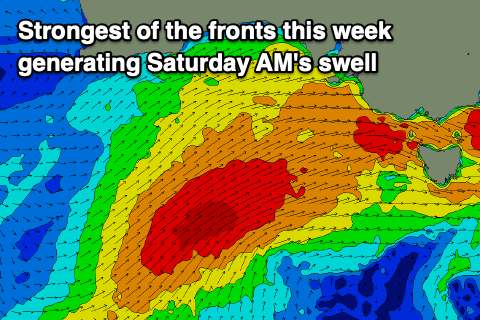 We'll see this system move across us this evening, leaving strong trailing W/SW winds in our swell window through tomorrow morning.
The Mid Coast looks to come in around a stormy 3ft+ with Middleton coming in around 4ft along with strong but easing W/NW winds, which will persist all day on the South Coast.
The strongest of the fronts will project a gale to near severe-gale W/SW ending SW fetch up and into us through Friday and this will see the South Coast building further in size ahead of a peak on Saturday.
Surf to the 4ft range is due off Middleton again on Friday morning, but a strong increase in size to 5-6ft on the sets is due by dark, peaking Saturday morning to 6ft to occasionally 8ft. The Mid Coast will remain around 3ft+ Friday, easing slowly from the 3ft range on Saturday.
Winds will be an issue, associated the the strongest frontal system moving through Friday bringing strong W/NW winds in the morning, but changing to the W/SW into the afternoon and then SW on Saturday but easing in strength through the day.
We'll see winds swing back to the W/NW on Sunday morning around Victor and moderate onshore from the W/SW across the Mid Coast with a drop in swell from Saturday afternoon back to 4-5ft off Middleton and 2ft+ on the Mid Coast.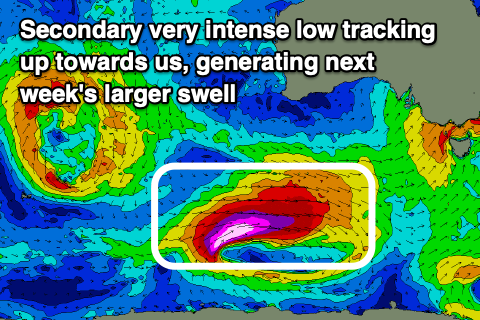 Later in the day but more so Monday, we'll see a large, long-period S/SW groundswell filling in, generated by the intense polar low that's forecast to form south-west of Western Australia on Friday.
A fetch of storm-force W/SW tending SW winds will be projected towards Tasmania as the low is steered north-east, weakening while pushing across Tasmania on Sunday.
This low will create a less consistent but more powerful S/SW groundswell for Monday that looks to fill in during the day and peak to 8ft across most exposed breaks, with the Mid Coast dropping back to 1ft to maybe 2ft on the favourable parts of the tide.
Winds will unfortunately be onshore again and out of the SW on Monday in the wake of the storm generating the swell, cleaner Tuesday as it eases with a morning W/NW breeze. We'll have a closer look at this on Friday though.