Friday, 7 December 2018
Pulsey waves all period on the Mid Coast
South Australian Forecast by Craig Brokensha (issued Friday 7th December)
Best Days: Mid Coast most days, biggest later Sunday and Monday, South Coast keen surfers Tuesday morning and magnets Wednesday morning
Recap
Fun waves across the swell magnets on the South Coast yesterday morning before sea breezes got into it, tiny on the Mid Coast.
This morning the swell has bottomed with great conditions persisting down South, only really surfable at Waits and Parsons, flat and bumpy on the Mid Coast.
A new W/SW swell due into this afternoon has hit the Cape du Couedic wave buoy and should provide 2ft sets by dark on the Mid Coast (currently 1-1.5ft) and 2ft+ off Middleton, and a late afternoon SW change is expected to tend S/SE on dark across the Mid Coast.
New W/SW swell on the Mid Coast
Today's Forecaster Notes are brought to you by Rip Curl
This weekend and next week (Dec 8 - 14)
This afternoon's shallow change will be followed by a fresher S'ly change early tomorrow morning and from here until Tuesday morning, the South Coast will be poor and with a junky S/SE windswell in the mix owing to persistent S/SE winds.
Swell wise, the Mid Coast will be the pick, with this afternoon's W/SW increase expected to ease from a similar 2ft on the sets across swell magnets tomorrow. We should see a good S/SE tending SE breeze, stiff from the S/SE into the afternoon.
A low point in swell is due Sunday morning with SE-E/SE winds (average and with a junky windswell down South), but later in the day we should see signs of our stronger W/SW groundswell that's due to peak Monday morning.
This has been generated by a strong polar front projecting up from the Heard Island region, generating a fetch of W/SW-SW gales, with the storm currently weakening under WA. We'll see it continue pushing east-southeast while weakening today, with the swell expected to build later Sunday to 2ft+ on the Mid Coast and 3ft+ off Middleton. With gusty S/SE winds, the Mid Coast will be the pick again, poor down South.
The swell is due to peak Monday to 2-3ft on the favourable parts of the tide across the Mid Coast (more so through the morning), while Middleton should see 3-4ft sets. Winds will remain good for the Mid Coast with a fresh SE'ly, very average across the South Coast.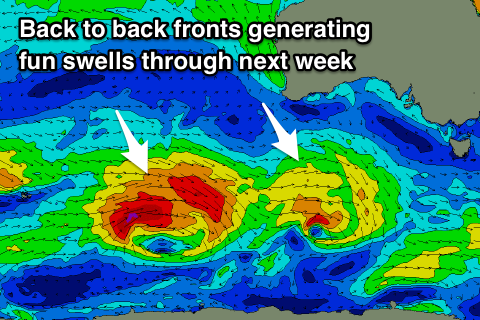 A slight drop in swell is expected on Tuesday, slowed by a small reinforcing mid-period W/SW swell from a weak front moving in under the country over the weekend.
This should keep the Mid Coast around 1-2ft, with 2ft to occasionally 3ft sets off Middleton as winds improve and swing E/NE down South, with peaky though cleaner conditions.
Wednesday morning is looking cleanest, but the swell will reach a low point with a morning offshore N/NW breeze, ahead of a S/SW change as a surface trough moves in from the west, followed by a strong high.
This will create poor conditions and moderate levels of S'ly windswell on the South Coast into the end of the week with strong S/SE winds.
The Mid Coast will be cleaner, and a new W/SW groundswell is due to fill in later Wednesday and peak Thursday, produced by a front projecting a persistent fetch of W'ly gales through our western/south-western swell window.
We're looking at fun 2ft sets on the magnets again across the Mid Coast later Wednesday and Thursday, but we'll have another look at this Monday. All in all it looks like there'll plenty of fun workable days on the Mid Coast through the period, which we'll take being December. Have a great weekend!