Friday, 10 August 2018
West winds and swell persist
South Australian Forecast by Craig Brokensha (issued Friday 10th August)
Best Days: South Coast protected spots Saturday morning, South Coast Monday and more exposed spots Tuesday, Thursday morning South Coast
Recap
Great waves across the South Coast yesterday with a good clean 3ft of swell off Middleton and all day offshores, followed by an epic sunset, while the Mid Coast was a fun and bumpy 2ft, poor into the afternoon.
This morning the swell was small and effectively blown out down South with strong offshore winds, with a bumpy and peaky NW windswell and W/SW groundswell to 2ft+ on the Mid Coast.
Today's Forecaster Notes are brought to you by Rip Curl
This weekend and next week (Aug 11 - 17)
Want to receive an email when these Forecaster Notes are updated? Then log in here and update your preferences.
This afternoon some new W/SW groundswell is expected across the region, holding through tomorrow. This was generated by a good pre-frontal fetch of W/NW gales south-west of WA through the middle of this week.
We should see 3ft sets off Middleton, if not more so down from Day St while the Mid Coast looks to come in at 2ft during the morning, building to 2-3ft into the afternoon as a mid-latitude front pushes in and across us.
The mid-latitude front will bring fresh to strong W/SW winds, W/NW for a short period around Victor.
Besides the building swell on the Mid Coast from this front, we'll see stronger levels of still mid-period W/SW and SW swell filling in Sunday.
This is owing to the broad slow moving system generating a relatively weak but persistent fetch of strong polar SW winds and mid-latitude W/SW winds from yesterday through the weekend.
The Mid Coast should persist at 2-3ft on Sunday, easing back from 2ft on Monday, while Middleton looks to persist around 3ft off Middleton, but be a bit weaker than Saturday, easing from a similar size Monday morning.
Winds are unfortunately looking average Sunday with the passing front, resulting in W/SW breezes all day across all locations, though there's a slight chance for early W/NW winds around Victor.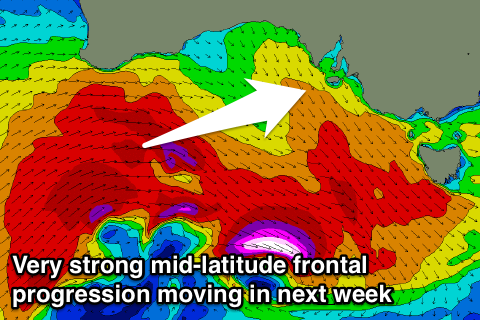 Monday looks much better with winds due to hold out of the W/NW all day with the easing SW swell.
Tuesday will see better conditions at exposed breaks as an approaching front swings winds NW-N/NW with smaller levels of swell to 2ft off Middleton. The Mid Coast looks to drop back to a small to tiny 1-1.5ft.
The low point will only be temporary as we see a strong mid-latitude frontal progression pushing in from the west through early next week, bringing it a moderate to large increase in W/SW groundswell but again with lots of wind.
The progression will be a bit of jumble but strong in intensity, with a mix of mid-period and groundswell due to build Wednesday ahead of a peak Thursday morning.
The Mid Coast will peak before the South Coast and winds look generally from the W/SW, but more on the expected sizes on Monday. Have a great weekend!