Monday, 16 April 2018
Large clean S/SW groundswell Wednesday, clean and easing into the weekend
South Australian Forecast by Craig Brokensha (issued Monday 16th April)
Best Days: Wednesday down South, Thursday down South, swell magnets on the South Coast Friday, Sunday South Coast - tiny teaser waves on the Mid Tuesday, Friday and Saturday
Recap
Large building storm surf across both coasts on Saturday with crowds a plenty in the usual stormy haunts. Sunday became a little more settled with stormy 3ft surf on the Mid Coast and a drop back to 4-6ft on the South Coast with favourable winds for protected spots.
Today the swell is smaller again on the Mid Coast and back to 2ft with the frontal activity moving more south of us, through the South Coast's swell window keeping solid 4-5ft surf hitting the coast, best in protected spots again.
Today's Forecaster Notes are brought to you by Rip Curl
This week and weekend (Apr 17 - 22)
Into this afternoon we should see some good new reinforcing SW groundswell from a strong front passing under us last night and early this morning.
Middleton should hang around 4-5ft into this afternoon as the Mid Coast hands in around 2ft on the sets.
We'll see this swell ease back through tomorrow from the 4ft range on the sets off Middleton, with one final pulse of large S/SW groundswell due late in the day but more so Wednesday morning.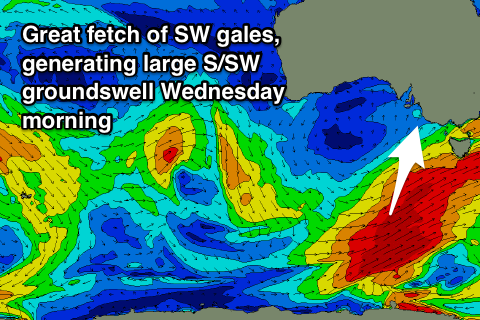 This is being generated by a great elongated fetch of SW gales extending from Victoria down to the polar shelf, with a slight intensification of this fetch through this afternoon and evening due to produce a good long-period S/SW groundswell for our South Coast.
We should see a late pulse in size tomorrow, ahead of a peak Wednesday morning to 4-6ft across most exposed breaks (bigger bombs at Waits and Parsons). A drop in size will be seen through the day, down further Thursday from 3ft+.
This swell won't impact the Mid Coast with easing surf from 1-1.5ft tomorrow, tiny Wednesday.
Winds won't be great tomorrow for the South Coast with a morning E/NE breeze ahead of sea breezes, but Wednesday looks great with N/NE offshores, possibly tending N/NW and then variable ahead of sea breezes.
Thursday will be great again with all day offshore N/NW winds as the swell eases.
Unfortunately there's no decent swell due for the South Coast into Friday and Saturday, but a small weak mid-latitude low that's currently west-southwest of WA should generate a tiny W/SW swell for the Mid Coast late Thursday but more so Friday to 1-1.5ft on the sets, holding Saturday as the low stalls south of WA late week, fading Sunday.
On Sunday a very very inconsistent long-period W/SW groundswell will fill in, generated by a vigorous storm in the southern Indian Ocean.
There'll be no real size to this swell due to the large travel distance, but with no other swells in the water, we should see a slow increase Sunday to a very infrequent 3ft on the sets across Middleton mid-late afternoon, and 1ft on the Mid Coast.
Winds are still a little unsure but we're likely to see morning NE breezes both Saturday and Sunday, likely remaining offshore down South into the afternoon Sunday, but we'll have another look at this Wednesday.