Friday, 22 May 2015
Easing and improving surf, best Sunday
South Australian Forecast (issued Friday 22nd May)
Best Days: Saturday through Monday down South, Wednesday down South, early Thursday down South
Recap
Surprising windows of lighter and more variable breezes across the South Coast yesterday morning and this morning with an easing SW groundswell yesterday and then large new pulse of S/SW groundswell today. Most locations were coming in at the 4-6ft range while the Mid Coast is offering clean tiny peelers to 1-1.5ft.
This weekend (May 23 - 24)
We've got a great weekend of surf down South ahead, with today's large S/SW groundswell due to ease off gradually as winds continue to improve.
Tomorrow will still likely be slightly lumpy and peaky but with an offshore NE tending N/NE breeze during the morning (weak E/SE winds into the mid-afternoon) and easing swell from 3-5ft at Middleton and 4-6ft at Waits.
Sunday should be great at those exposed beaches with the swell easing from 3ft at Middleton and 3-5ft at Waits under N/NE tending variable winds. So there's no rush to head down for the early, unless you want to get the most size.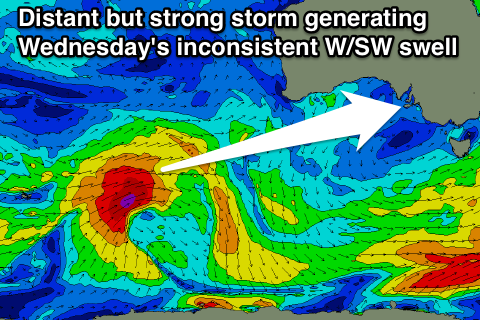 Next week onwards (May 25 onwards)
The swell will continue to back off Monday and become tiny Tuesday, with exposed beaches on the South Coast the go under persistent N/NE winds, strengthening through Tuesday.
A new long-range W/SW groundswell is due to arrive later Tuesday and peak Wednesday, generated by a long-lived but not especially strong frontal progression pushing through the southern Indian Ocean.
Middleton should build to an infrequent 3ft on the sets at Middleton and 4ft+ at Waits and Parsons with 1-1.5ft sets on the Mid. Winds will however swing from the N/NW around to the NW, favouring the South Coast.
Longer term a bigger swell is on the cards for later in the week as a strong node of the Long Wave Trough moves in from the west. This should firstly fire up a vigorous polar frontal system to the south-west of WA, projecting it up and into us later next week. A large SW groundswell is due, peaking through Friday but with what appears to be average winds. But we'll look at this closer on Friday. Have a great weekend!