Wednesday, 6 May 2015
Protected spots down South best option
South Australian Forecast (issued Wednesday 6th May)
Best Days: South Coast Friday, Saturday and Sunday morning
Recap
Large stormy waves across the Mid yesterday with plenty of crew hunting the stormy venues, while the South Coast was small and average early with a larger swell building into the afternoon as winds held from the west, favouring protected breaks.
Today the Mid was back to a smaller and junky 2-3ft while the South Coast was pumping with clean 5ft waves across the Middleton and Victor stretch under fresh and gusty W/NW winds.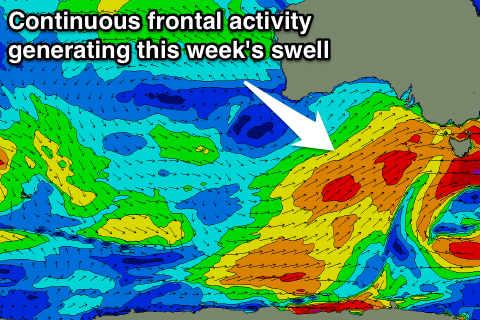 This week through next week (May 7 - 15)
The South Coast is seeing the first decent pulse of SW swell today, and through the rest of the period we'll continue to see moderate to large amounts of SW groundswell impacting the state. This will be a result of a strong node of the Long Wave Trough moving slowly across us, directing front after front up through our swell window.
Currently one of these frontal systems is pushing through our swell window directly to our south-west, generating another strong SW groundswell for tomorrow, boosting Middleton back to 4-5ft with 6ft+ sets at Waits and Parsons during the day. Conditions will be poor though with a fresh to strong W/SW breeze.
A slight drop in size is then due into Friday and further into Saturday morning but still not below 3-4ft at Middleton and 5-6ft at Waits. A new SW groundswell is due into Saturday afternoon from a weaker front developing to our south-west and this is expected to kick Middleton back to 5ft on the sets later in the day.
Conditions look better Friday in protected spots with a fresh W/NW'ly. Saturday should then see NW tending W/NW winds with W/NW to W/SW winds Sunday.
The Mid Coast is due to hover in the 2ft range through the period but with winds from the western quadrant conditions will be poor.
Into Sunday afteand Monday two stronger pulses of SW groundswell are due from a couple of strong fronts pushing up into us Friday and into Saturday/Sunday with Middleton again building back to 4-5ft with 6ft+ sets at Waits and Parsons, before easing from a similar size Monday morning.
Conditions Sunday look to become average with a strong W/NW tending W/SW breeze around mid-late morning while Monday looks average as winds persist from the W/SW.
The swell is due to continue easing into Tuesday with onshore SW winds, while Wednesday morning may see an early W'ly ahead of a strong SW change.
This change will be related to another strong polar front pushing up through our southern swell window next week, generating another good S/SW groundswell pulse for next Thursday, but we'll have a closer look at this on Friday.