Wednesday, 22 April 2015
Plenty of swell but with tricky winds
South Australian Forecast (issued Wednesday 22nd April)
Best Days: Thursday down South, Friday in protected spots down South, early Saturday on the Mid (possibly), Sunday morning on the Mid
Recap
Easing tiny 0.5-1ft waves on the Mid yesterday with cleaner but still far from perfect 3ft waves across the Middleton stretch with more size out at Waits and Parsons under morning E'ly winds.
Today the Mid is near flat with better wobbly waves easing from 3ft at Middleton again, with more size out at Waits and Parsons.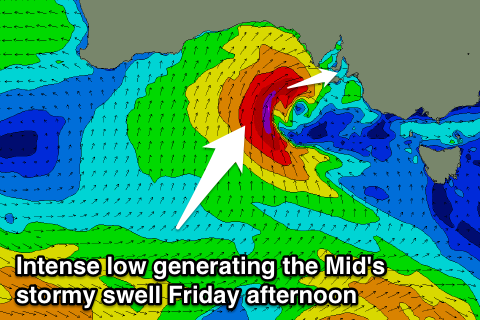 This week and weekend (Apr 23 – 26)
Tomorrow will start slow early down South but a strong new SW groundswell is due to fill in through the day and peak into the afternoon. The source of this swell was a strong polar frontal system firing up to the south-west of WA earlier this week, tracking less than favourably down towards the Polar Shelf.
Middleton is due to build to 3-4ft with 4-6ft sets at Waits and Parsons before easing from a similar size Friday morning. The Mid Coast isn't due to see any major size with 1ft sets into the afternoon and early Friday.
Winds tomorrow should become variable across both coasts creating improving conditions down South and also remain light into the afternoon.
Come Friday an intense mid-latitude low is forecast to start moving in from the west and across us with it now sitting further north than forecast on Monday resulting in a bigger stormy swell for the Mid Coast and no real major size down South.
Winds will be strong from the NW to W/NW all day, favouring the South Coast while the Mid should build to a stormy 3ft+ through the afternoon.
The low is forecast to push across us into the evening and we may even see an E'ly offshore for the Mid Saturday morning as the swell eases from the 3ft range. The South Coast will offer plenty of size with moderate amounts of swell but the E'ly breeze will swing S'ly mid-morning and create poor conditions from then into Sunday. The Mid should continue to drop from 1-2ft with early S/SE winds.
We'll have to have a closer look at the winds for Saturday morning on Friday again, as the models are still divergent on this tricky system.
Next Monday onwards (Apr 27 onwards)
The outlook for early next week is poor with onshore winds for the South Coast initially, improving from the E/NE Tuesday and Wednesday mornings.
A good new S/SW groundswell is due to build Monday and then ease into the rest of the week, generated by a strong polar front pushing along the Antarctic Shelf Friday and Saturday, with Middleton expected to come in at 3ft+ with 4-5ft sets at Waits, easing back slowly through Tuesday and becoming smaller Wednesday.
Longer term there's nothing major on the cards for the end of the week, but we'll look at this again on Friday.