Mid Tuesday, South from Thursday
South Australian Forecast (issued Friday 3rd April)
Best Days: Tuesday morning on the Mid, Thursday morning through Sunday morning down South
Recap
Fun waves Saturday morning with a mix of easing S'ly windswell and building SW groundswell under offshore winds. The surf was best mid-late morning before sea breezes kicked in.
A good new SW groundswell peaked Sunday morning to 3-4ft at Middleton with bigger sets at Waits and Parsons under early light variable winds ahead of an onshore change mid-afternoon.
Today winds have strengthened further from the S/SW whipping up an easy 2ft of windswell across the Mid, with much larger waves across the South Coast.
This is due to an intense surface trough stalling to our south, directing a fetch of strong to gale-force S'ly winds into the South Coast, with a further increase in size this afternoon and evening.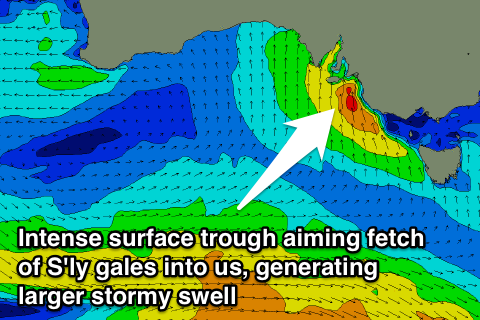 This week (Apr 7 – 10)
The surface trough currently focussing in to the South Coast is expected to move off to the east through this evening. This should result in the windswell starting to ease through tomorrow but it will still be solid through the morning with 4-6ft waves across most locations but with a persistent and strong but easing S'ly breeze.
The Mid Coast should ease from 1-2ft and conditions are expected to be workable in protected spots with an early S/SE'ly before reverting back to the S-S/SW.
A good new S/SW groundswell due for Wednesday is still on track, generated by a strong polar front that's currently south of WA. This size of this swell is still looking to reach an inconsistent 3-5ft at Middleton and possibly 6ft bombs at Waits but with a persistent and fresh S'ly wind.
The Mid isn't expected to be any major size from this system, hanging around the 1ft range.
Come Thursday and Friday we should see winds finally improve down South with the dropping S/SW swell from 3-4ft at Middleton and 4-5ft at Waits under a morning E/NE'ly with smaller surf Friday under a slightly better NE'ly. Conditions won't be perfect but peaky and fun across most breaks.
The weekend is looking smaller with the S/SW swell continuing to ease away under light offshore NE winds down South. A small new S/SW groundswell may be seen through Sunday and early next week, but longer term some larger surf is on the cards from later next week. More on this Wednesday though.