Limited options this week, better weekend
South Australian Forecast (issued Monday 23rd March)
Best Days: Wednesday morning down South, Saturday and Sunday mornings down South
Recap
Great waves across both coasts Saturday morning with Friday's strong kick in W/SW groundswell on the Mid easing from a crisp and clean 2-3ft, while the South Coast was peaky and clean with 3-4ft sets still pushing in at Middleton, with bigger bombs out at Waits and Parsons.
Sunday was smaller again but straighter down South with a straight offshore N'ly wind while the Mid Coast still offered the odd fun set.
Today a new inconsistent SW groundswell built down South but a fresh onshore change moving through shortly after dawn left no real window for getting a decent wave in. The Mid Coast has seen a kick in windswell to 2ft but with no quality at all.
This week (Mar 24 – 27)
Today's building SW groundswell across the South Coast is due to peak around now and will drop back through tomorrow but there'll also be some junky S/SW windswell in the mix from today's front.
Winds will be poor in any case down South with a fresh and gusty S'ly breeze, while the Mid should see a morning S/SE wind but weak easing 1-1.5ft wave.
Wednesday will be the morning to head South but with a smaller easing 2-3ft wave at Middleton and 3-4ft sets at Waits and Parsons under a freshening NW tending W/NW breeze ahead of a mid-late afternoon W/SW change.
Into the end of the week we've got a mix of swells sources and poor winds associated with a deepening and slow moving mid-latitude low pushing in from the west Wednesday evening.
This low is still struggling to be resolved by the global forecasting models, with some having it stalling right off the South East, while others have it more towards Victoria.
In any case we'll see fresh to strong onshore winds Thursday with building levels of S/SW windswell (with a smaller background SW groundswell hidden in the mix), coming in at 1-2ft on the Mid Coast while Middleton should build to 3-4ft+ at Middleton and 5ft+ at Waits.
The swell will ease off into Friday as the low pushes east and winds will still be lingering onshore from the S'th creating average conditions down South. The Mid will be clean but tiny and easing from 1ft or so.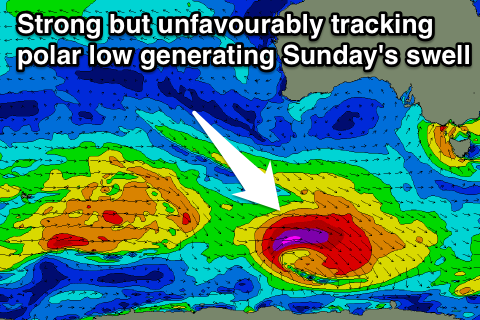 This weekend onwards (Mar 28 onwards)
Saturday morning should be fun down South as winds swing offshore from the N/NE and the S/SW swell from Friday continues to drop from 2-3ft at Middleton and 3-4ft at Waits.
A new fun S/SW groundswell is due Sunday, generated by an unfavourably tracking polar low during the end of this week. This low will push quickly east through our swell window and also track east-southeast perpendicular to our Great Circle path, but the strong core winds should still produce some good size.
Middleton should still see good 3ft sets with 4ft+ waves at Waits under light winds from the NE ahead of afternoon sea breezes.
Longer term a couple of smaller SW groundswells are on the cards for next week, but more on this Wednesday.