Good Mid Saturday morning, South Coast all day Sunday
South Australian Forecast (issued Friday 20th March)
Best Days: Saturday morning both coasts, Sunday down South, Wednesday South Coast
Recap
Only a very short-lived period of clean waves down South early yesterday before an onshore change pushed through, and a weak building windswell across the Mid into the afternoon.
Today a strong mix of new W/SW and SW groundswell are building across both coasts, picking up from 2-3ft on the Mid with light S/SE winds, while the South Coast was building from an onshore 3ft or so across the Middleton stretch.
We should see the Mid peak this afternoon to an easy 3ft on the sets (the South Port cam already confirms this) as winds tend back to the S/SE, creating good conditions across all breaks into the evening.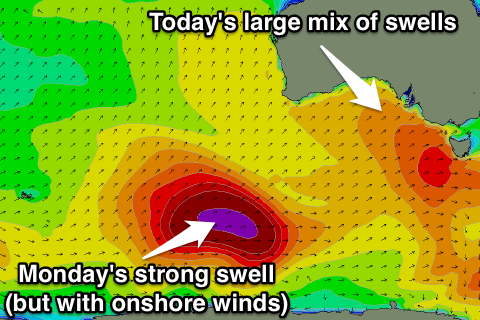 This weekend (Mar 21 – 22)
Both the W/SW and SW groundswells seen across the state should peak overnight and ease back from 2ft to occasionally 3ft early tomorrow on the Mid, while the South Coast should drop from 3-5ft at Middleton and the 6ft range at Waits.
Winds will be great for the Mid and offshore from the E, while the South Coast will improve but still be peaky and not perfectly lined up with a morning E/NE'ly.
Sunday looks much better for the South Coast as the swell continues to ease from 3ft on the sets at Middleton and 4-5ft at Waits under persistent N/NE winds that should tend variable into the afternoon/evening. The Mid will be tiny and dropping from 1-1.5ft or so.
Monday onwards (Mar 23 onwards)
As touched on Wednesday a very long-period SW groundswell due Sunday afternoon/evening will have no size to it with it being generated in our far swell window south of Heard Island.
The low that generated this swell is currently south-west of WA , generating a fetch of weakening gale to severe-gale W/SW winds. The low should push east today and tomorrow while slowly weakening.
A moderate sized SW groundswell will be produced by this low, building Monday and peaking during the middle of the day, early afternoon.
Middleton should offer 3-4ft sets with 5ft waves at Waits while the Mid isn't expected to see any major size from this swell. It will pick up size from a front pushing through during the day though, with this front aiming a less than ideal fetch of strong to gale-force S/SW winds through the Bight on Sunday.
This should kick up 2ft waves into the afternoon Monday but conditions will poor in any case with strong S/SW winds.
Tuesday will be cleaner on the Mid with a morning S/SE breeze but there isn't expected to much size left with easing 1-1.5ft waves. The South Coast will be average and not worth the drive down.
Wednesday will be the day to head South next week but the swell will be smaller and fading under strengthening N/NW winds ahead of a late W/SW change.
Into the end of the week a moderate sized S/SW groundswell is due Thursday/Friday but winds look poor again for the South Coast with from the SW. We'll review this Monday though. Have a great weekend!