Friday, 27 February 2015
Small clean Saturday, better Monday morning
South Australian Forecast (issued Friday 27th February)
Best Days: Saturday morning exposed breaks, Monday morning down South
Recap
Tiny clean peelers on the Mid, while the South Coast was fun with a good easing swell from 2-3ft at Middleton with bigger sets out at Waits and Parsons under light variable winds before a S'ly sea breeze kicked in around midday.
Today the surf is clean as a whistle down South but small and best at Waits and Parsons with an offshore N/NE'ly that should persist into the early afternoon ahead of weak afternoon sea breezes. The Mid was tiny and clean but only for beginners.
This weekend (Feb 28 – Mar 1)
Exposed breaks across the South Coast will be the only real option for a surf tomorrow with a similar swell to today, as a new long-range and very inconsistent SW groundswell fails to make any real impact across the state.
Middleton is only due to offer inconsistent 1ft to occasionally 2ft waves, with 2ft+ sets at Waits and Parsons. Early will be the go with a moderate N/NE'ly at dawn expected to swing NW through the morning, W/NW late morning and then onshore from the SW early afternoon.
Come Sunday the surf will be poor with a building S'ly windswell and fresh S/SE winds.
The Mid Coast should see a tiny increase in weak SW windswell through Saturday afternoon, with easing 1ft sets Sunday morning ideal for beginners with a morning SE'ly.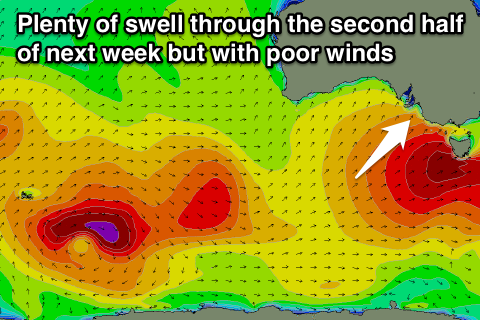 Next week onwards (Mar 2 onwards)
Monday morning will be nice and clean down South, but the swell will be mainly windswell and weak but still fun across exposed breaks. Middleton should drop from 2ft to nearly 3ft, while Waits and Parsons should be in the 3ft+ range early, fading through the day.
A late afternoon onshore change Monday will bring with it poor winds into Tuesday from the S'th, but the first of a series of SW groundswell pulses is due to fill in through the day.
Tuesday's increase in SW swell will be the first and smallest in a series of good SW and then S/SW groundswell pulses due through the middle and end of next week, all thanks to the Long Wave Trough.
A strong node (peak) of the Long Wave Trough is forecast to move across us early next week, bringing with it a series of strengthening polar fronts.
Initially the SW swells will be OK for the Mid, but the largest S/SW pulse through Thursday/Friday morning will be too south to offer any real size.
Unfortunately through this whole period, winds will be poor for the South Coast, onshore from the SW Wednesday as one of the better SW groundswell peaks and then from the S'th Thursday as the larger S/SW groundswell fills in. Friday as the swell starts to drop will be no better with S/SE winds. The Mid will also be less than ideal, and by the time winds swing offshore Friday the surf is due to become tiny.
Size wise, Middleton should come in at 3-4ft Wednesday with 4-5ft sets at Waits and Parsons, while the Mid should kick late Tuesday to 1ft and hold around 1-1.5ft Wednesday and Thursday. The stronger S/SW groundswell for Thursday across the South Coast is due to build to 4-6ft across most locations through the afternoon, with the odd bigger bomb likely at offshore reefs and swell magnets.
We'll take a closer look at all of this again on Monday though. Have a great weekend!