Monday, 16 February 2015
Easing swell with onshores, better from Thursday
South Australian Forecast (issued Monday 16th February)
Best Days: Tuesday morning for beginners and Mals on the Mid, Thursday, Friday and Saturday mornings down South
Recap
Saturday morning was the pick of the weekend with a small, fun easing swell under light offshore breezes before the afternoon S/SE'ly kicked in.
Sunday offered a period of unexpected offshores, as an onshore change stalled to the west, only arriving mid-late morning, but the swell was tiny and weak in any case.
Today a mix of new W/SW and building SW swell are showing across both coasts with 2ft sets on the Mid and small weak waves this morning down South, since building to a better 3ft at Middleton and 4ft at Waits but with onshore winds. The Mid was cleaner and the go early with a S/SE breeze, but this has since onshore.
This afternoon's kick in SW swell due down South has been downgraded a touch with the re-intensification of the low forecast to occur to our south-west yesterday, not playing out as favourably as expected on Friday. This will reduce the sized expected at Middleton to only 3ft+ this afternoon with 4-5ft sets at Waits and Parsons. Winds are onshore in any case and will remains so over the coming days.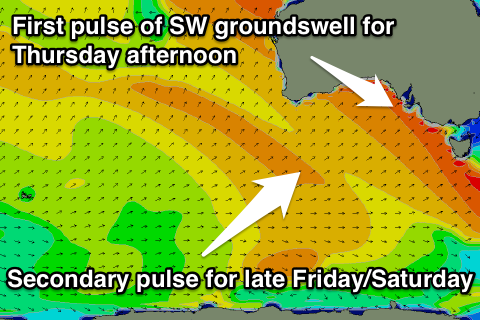 This week and weekend (Feb 17 - 22)
As touched on above, this afternoon's increase in SW groundswell due down South and consequently tomorrow's size has been downgraded a touch, but conditions are poor in any case with fresh SE tending S/SE winds tomorrow and then stronger SE tending S/SE winds Wednesday.
The Mid Coast should ease in size from a clean 1-1.5ft tomorrow, becoming tiny into Wednesday.
Thursday will start out mainly weak with a S/SE windswell across the South Coast, but a new long-range and inconsistent SW groundswell is due into the afternoon.
This groundswell was generated over the weekend by a strong and slow moving polar front firing up to the south-west of WA, and this system is now weakening to the south of WA.
Due to the large distance between the source of the swell and our coasts there'll be very long waits between sets and a bit of size loss.
Middleton should build to a good but infrequent 3ft on the sets with 4ft+ waves at Waits while the Mid is only due to build to a tiny 1ft. The morning will be smaller though with 2-3ft of S/SE windswell.
Winds should tend NE through the morning Thursday favouring slightly protected locations with the peaky mix of swells before afternoon sea breezes kick in.
Friday looks to offer similar E/NE to NE winds during the morning as the swell eases from 2-3ft at Middleton and 3-4ft at Waits and Parsons.
Into Friday evening a stronger SW groundswell is due to arrive from another slightly stronger polar low forming in a similar area to the weekend's system, but pushing further east and closer to us.
A slightly more consistent SW groundswell is due from this low, but arriving later Friday and peaking overnight.
Saturday morning should offer good size though with an easing 3ft+ wave at Middleton and 4-5ft sets at Waits and Parsons. The Mid is only expected to offer a tiny 1ft wave.
Winds are looking good and offshore from the N'th Saturday morning ahead of an afternoon W/SW change.
Longer term we've got some good swell potential on the way for next week as a strengthening node of the Long Wave Trough moves in from the west this weekend and stalls just west of us into early next week.
This will likely project a vigorous and slow moving polar low right through our south-western swell window generating a series of strong SW groundswell pulses, but check back here on Wednesday for an update on this.