Monday, 8 December 2014
Poor week, very small window Saturday morning
South Australian Forecast (issued Monday 8th December)
Best Days: Friday morning for keen surfers in protected locations down South, early Saturday down South
Recap
No decent waves over the weekend with a building S/SE windswell with strengthening onshore winds down South and a tiny bumpy 0.5-1ft of swell across the Mid Coast Saturday, cleaning up but dropping back to 0.5ft Sunday.
Today the S/SE windswell was on the ease as winds remained poor down South and unfortunately the week ahead will remain poor.
This week (Dec 9 - 12)
The deepening trough over Victoria responsible for the weekend's S/SE windswell has since weakened and with this the fetch of S/SE winds aimed into the South Coast have eased resulting in a drop in size today.
We'll continue to see the S/SE windswell back off through tomorrow and wave heights will be small to tiny with only background levels of SW groundswell. Winds will remain poor though and from the E/SE tomorrow morning and then back to the SE Wednesday morning.
Another trough moving in from the west Wednesday evening will strengthen through Thursday and with this we'll see the fetch of S/SE winds aimed into us re-strengthening kicking up moderate levels of S/SE windswell again.
The South Coast should build to a junky 3-4ft again before easing from the 3ft range Friday as winds swing to a fresh E'ly. This won't be great but it'll open up protected locations for an early surf and be the pick of the week ahead.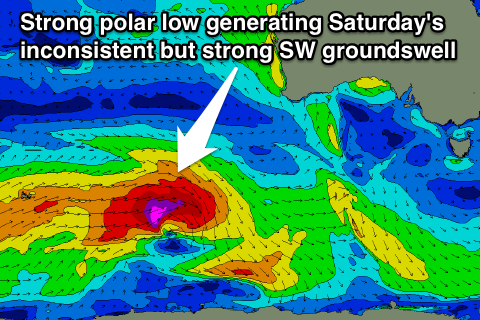 This weekend onwards (December 13 onwards)
As touched on late last week, a good pulse of SW groundswell is due into the weekend but winds are still looking a little dicey unfortunately.
This SW swell will be generated by a flurry of strong polar activity under WA and the country this week.
An initial fetch of W/SW gales today will set in motion an active sea state for a stronger polar low to move over, producing an additional fetch of severe-gale W'ly winds before the system tracks east-southeast and under Tassie.
This should produce a strong but inconsistent SW groundswell for Saturday coming in at an inconsistent 3-4ft across Middleton and 4-5ft at Waits while the Mid should see tiny 1ft sets.
Winds are only expected to be favourable for a very short period around dawn Saturday with a variable breeze ahead of a surface trough moving across us bringing SW winds shortly after the sun rises. If this trough stalls a little we'll see a longer period of favourable conditions but we'll review this on Wednesday and Friday.