Average outlook with persistent S/SE winds
South Australian Forecast (issued Friday 15th July)
Best Days: Wednesday morning, Thursday morning, Friday
Recap
A slight kick in long-range W/SW groundswell provided 1ft waves across the Mid Coast yesterday, while the South Coast offered plenty of size but average conditions with a fresh E'ly breeze.
This morning the surf is on the improve down South with a very light offshore wind and glassy 3-4ft of swell, while the Mid Coast is again clean but tiny. Make the most of this morning across the South Coast though as we're about to enter a period of poor waves with persistent onshore winds.
This weekend and next week (Aug 16 - 22)
As touched on above, the coming period is looking poor with persistent onshore winds from the S/SE expected to develop tomorrow and be relentless until at least Wednesday morning.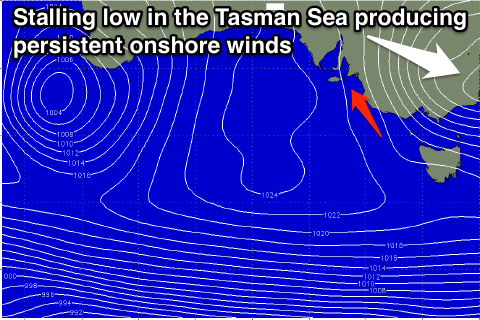 This will be related to a deepening inland surface trough pushing off the East Coast, supporting the formation of a Tasman Low that will stall in the Southern Tasman Sea.
A strengthening southerly pressure gradient will be generated across South-eastern Australia from tomorrow through until Wednesday when the low will start to move off to the east. This should see winds swinging from a persistent and fresh S/SE'ly around to the E/NE down South with an easing S/SW groundswell that's due to peak Tuesday.
The source of this swell is a couple of strong polar fronts pushing along the shelf over the coming days, with a moderate sized S/SW groundswell. A drop in size from 3-4ft at Middleton and 4-5ft at Waits is due Wednesday morning with peaky conditions under that E/NE breeze.
Thursday and Friday are looking much better as winds swing anti-clockwise and around to the N/NE on the former and then straighter from the N'th Friday.
This should coincide with the peak of a new long-range S/SW groundswell Thursday morning that's then expected to ease into the afternoon and more steadily Friday.
The swell will be generated in our long to medium range window from a vigorous polar front firing up around Heard Island and hugging the polar shelf while pushing east.
Inconsistent 3-4ft sets are due across Middleton and 3-5ft at Waits on Thursday morning as the swell peaks with tiny 0.5-1ft waves on the Mid. A drop on Friday is expected from 3ft or so across most spots under offshores.
Longer term a couple more long-range groundswells are due across the state later next weekend and early the following week under favourable winds, but we'll review this Monday. Have a great weekend!