Friday morning the pick of the period
South Australian Forecast (issued Wednesday 13th July)
Best Days: Thursday morning for keen surfers and beginners on the Mid, Friday morning down South
Recap
A dropping swell eased back from a clean 1-1.5ft yesterday across the Mid, while the South Coast was much better with a glassy and slightly lumpy 4ft of easing swell. Conditions deteriorated into the afternoon as fresh S/SE winds popped up.
Today conditions were similar with a smaller swell and light E'ly breeze across the South Coast while the Mid has really backed off and is nearly unsurfable.
This week and weekend (Aug 14 - 17)
Average winds will continue through tomorrow across the South Coast as a new S/SW groundswell fills in to 3-4ft at Middleton and 4-5ft at Waits. A morning E/NE'ly will create smooth conditions but there'll be lots of peak and wobble across the coast from overnight onshores.
Friday is looking better as the groundswell starts to drop away with light offshore NE and even possibly N/NE winds ahead of a moderate onshore into the afternoon.
The Mid Coast should see a small uptick in size as a long-range W/SW groundswell fills in tomorrow to 1ft+ before fading Friday.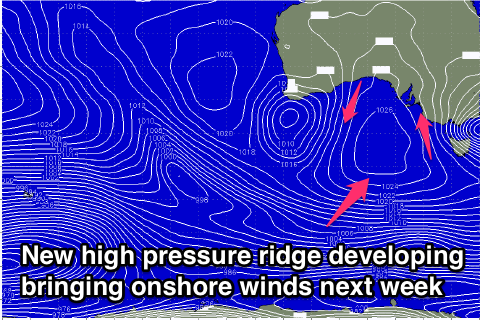 The weekend will see the surf bottoming out Saturday and becoming small to tiny. Winds will be less than ideal with a light E'ly ahead of a freshening S/SE'ly.
Sunday won't fair much better even with the arrival of a new S/SW groundswell as onshore S/SW winds develop and then persist through early next week owing to a new building ridge of high pressure. There'll be a couple of good S/SW groundswell pulses but they'll be spoilt by the onshore.
Therefore make the most of tomorrow and Friday's conditions as there's nothing to really get excited about long term.