Good waves down South every day this week
South Australian Forecast (issued Monday 4th July)
Best Days: Tuesday morning both coasts, Wednesday morning both coasts, Thursday, Friday, Saturday, Monday on the Mid
Recap
The weekend started out great with offshore winds and a glassy easing 2-3ft of swell across the Mid, while Victor was much larger and clean with a very light offshore wind and improving swell.
Sunday was much straighter down South as slightly stronger offshores ironed out the waves with pumping and easing 3-5ft surf across most breaks, while the Mid was tiny but still fun on the right board.
Today the swell has bottomed out with tiny clean 1ft waves on the Mid Coast and 2-3ft surf down South ideal for more exposed locations. A late increase in strong new long-range W/SW groundswell is due but the Cape du Couedic hasn't picked up the long-period fore-runners yet, and unless it does soon we probably won't see any appreciable increase in size across both coasts.
This week (Aug 4 - 8)
This evening's late increase in long-range W/SW groundswell was generated through the Indian Ocean last week, and should peak through tomorrow. A more consistent and closer-range SW swell should overpower this swell though, generated as a secondary more south in latitude front developed south-west of WA and then pushed under the country yesterday and last night, with both swells peaking through tomorrow.
The South Coast forecast looks to be a little overcooked to me with the size more likely to come in at 3-5ft across Middleton with 6ft sets out at Waits and Parsons tomorrow before dipping slowly through Wednesday.
The Mid Coast should see inconsistent 2ft waves tomorrow before easing back from 1-2ft Wednesday morning.
Winds are looking great with light NE winds tomorrow on the Mid and NW winds down South ahead of a shallow W/SW change. Come Wednesday a fresher NW'ly is due down South ahead of a stronger W/SW change. The Mid may see early N/NE winds for the morning surf.
Into Thursday and Friday the Mid Coast should continue to ease in size, while the South Coast is showing a new pulse of solid SW groundswell but again I feel this is being over-forecast. The source of this swell is an unfavourable fetch of W/NW gales and it's only likely to keep 3ft+ sets hitting Middleton and bigger 4-5ft waves at Waits before easing into Friday and further Satellites.
Winds will be good though with a light NW tending variable breeze Thursday and all day offshore N'ly tending NW winds on Friday.
This weekend onwards (Aug 9 onwards)
As touched on above, Saturday will continue to see easing swells but good waves at exposed spots down South with a persistent offshore N/NW wind. Into Sunday and Monday though we should see the arrival of a long-range but strong SW groundswell across the state.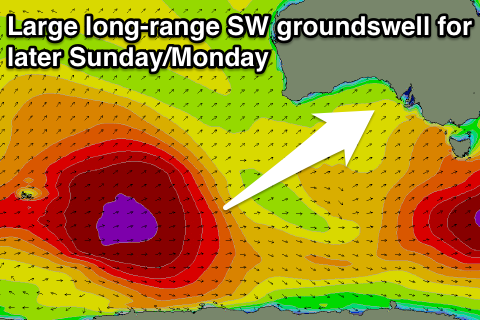 This will be generated by a vigorous polar frontal progression firing up west of Heard Island today and then moving slowly east through the entire week before weakening south of the country through Friday and Saturday. A continuous fetch of gale to severe-gale W/SW winds will be aimed towards us generating a large groundswell for WA and Indo, with a touch less size for us.
A medium to large sized and very inconsistent long-range SW groundswell should result, pushing in strongly later Sunday to 4-5ft at Middleton with 6ft sets at Waits before peaking Monday to a slightly larger size. The Mid Coast should see very inconsistent 1-2ft sets late Sunday and Monday.
Winds are looking average unfortunately with a fresh S/SW change moving through Sunday with lingering S/SE winds on Monday, but we'll review this Wednesday.