Great weekend, excellent Monday
South Australian Forecast (issued Friday 18th July)
Best Days: The whole period on the South Coast, with Monday being a standout
Recap
The Mid Coast eased from a stormy and choppy 3-4ft yesterday as strong NW winds swung SW through the day.
The South Coast was good through the morning in protected locations with tons of swell and W/NW breezes. A strong SW change moved through the mid-afternoon though, writing off the surf for the rest of the day and also today as winds lingered from the S/SW.
The Mid Coast however came in as expected with improving 2-3ft waves with a dropping swell and S/SE breeze. The swell should ease back to 2ft+ this afternoon as winds possibly go to the S/SW before swinging back to the S/SE later in the day.
This weekend (Jul 19 -20)
The weekend's looking great for surf with today's swell expected to drop off through tomorrow and further into Sunday morning as a ridge of high pressure quickly moves in.
This will swing winds offshore from the N'th tomorrow down South and E/NE across the Mid with an easing swell from 3-5ft along the Middleton stretch with the odd bigger bomb possible at Waits. A weak S/SE'ly will create a few bumps into the afternoon but not deteriorate conditions too adversely. The Mid Coast should ease from an inconsistent 1-1.5ft.
Sunday is looking great for more exposed locations with the swell dropping back to 3ft at Middleton and 3-4ft+ at Waits and Parsons under N/NE tending E/NE winds.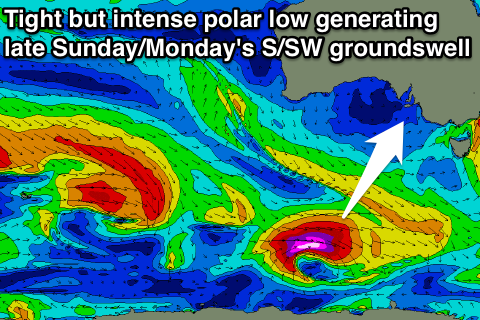 A late increase in S/SW groundswell is on the cards down South and this will be generated by a tight but intense polar low forming well south of WA early this morning, aiming a fetch of severe-gale to storm-force W/SW winds through our swell window.
This swell should pulse back to 3-4ft late at Middleton with 4-5ft sets at Waits, but Monday will be the day to surf.
Monday onwards (Jul 21 onwards)
Late Sunday's swell should hold well into Monday morning before easing through the day, with Middleton easing from 3-4ft+ with 5ft bombs at Waits. Conditions look excellent with fresh N/NE winds persisting all day, and although Tuesday will be much smaller conditions look to remain excellent.
A secondary reinforcing SW groundswell for Wednesday won't have any major size and should simply keep Middleton ticking at 2ft+ with 3ft+ sets at Waits and Parsons as offshore winds persist.
Longer term the models diverge on a frontal progression pushing through the Bight during the middle to end of next week. GFS and ACCESS have a vigorous progression with a moderate to large sized W/SW groundswell for late in the week, whereas ECMWF has a much weaker and subdued system with no considerable swell at all.
Gut feel has me leaning towards GFS and ACCESS but we'll review this Monday.