Fun Sunday, larger swells from Thursday
South Australian Forecast (issued Friday 4th July)
Best Days: Protected spots down South Saturday morning, Sunday, Monday morning at exposed spots, Tuesday, Thursday morning down South
Recap
The South Coast offered clean fun waves all day yesterday with a great swell for beginners at Middleton and more experienced surfers at Waits and Parsons.
The Mid Coast was average with a choppy N/NW windswell kicking up through the day.
Today the South Coast remained clean and small ahead of a fresh kick in W/SW tending SW swell which is already showing 3ft sets at Middleton. The Mid Coast is building to a semi-stormy 2-3ft but conditions are poor with strong onshore winds.
We should see the swell continuing to kick down South into the afternoon as winds swing around to the W/SW.
This weekend (Jul 5 – Jul 6)
The intense mid-latitude low currently pushing across us will continue to aim a fetch of gale-force SW winds into the South Coast until early tomorrow morning while tracking east, generating a solid SW tending S/SW groundswell.
The Mid Coast will ease in size as the W/SW swell fades, dropping from 2ft+ or so but remaining average with fresh but easing W/SW winds.
Middleton should see solid 3-5ft waves tomorrow morning before easing later in the day and further into Sunday from 2-3ft across most spots, with the rare bigger bomb at Waits.
Winds should be OK for protected locations down South tomorrow with a fresh to strong W'ly tending W/SW breeze, while Sunday is much better with a W/NW tending variable breeze.
Next Monday onwards (Jul 7 onwards)
As touched on last update, the start of next week is looking slow, with small to tiny leftovers on Monday under strengthening N/NW winds. This will favour exposed beaches such as Waitpinga, but get in early as it will likely become too windy into the afternoon.
A small spike in long-range W/SW groundswell from the Indian Ocean is due on Tuesday but likely not above 2ft at Middleton, 2-3ft at Waits and 1-1.5ft on the Mid. In any case the Mid will see a stormy W/NW windswell building through the day under gale-force NW winds.
The reason for these strong NW winds is a vigorous frontal system moving in from the west, under the influence of the Long Wave Trough.
As discussed the last few updates, the Long Wave Trough will move across the south of the country, bringing with it a series of vigorous polar fronts and solid swells for the second half of next week.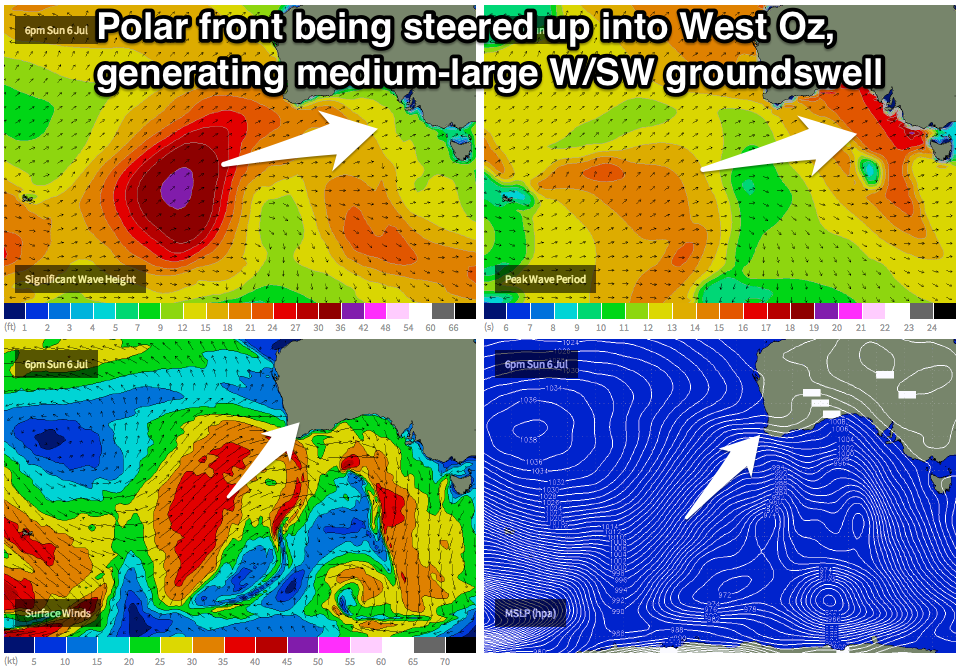 Initially as the LWT focusses over WA this weekend, a very strong and powerful polar front will push up from the Heard Island region, up and into WA, generating a medium to large sized W/SW groundswell for us later Wednesday and more so Thursday.
Middleton is expected to offer inconsistent 3-4ft+ waves, with larger 5ft+ sets at Waits while the Mid Coast should see 3ft waves, but again the frontal system linked to the swell will push through Wednesday and Thursday, bringing 3ft of windswell in any case.
Winds may be OK for a period down South and from the west, but a general W/SW breeze is expected for the most part.
As we move into the end of the week, the LWT will move across us and with this we'll see the frontal activity focussed more up into us and Victoria. This should bring a large pulse of SW groundswell for later Friday but more so Saturday across the state.
To what size is still a little undecided as the models are moving around a little, but check back here on Monday for the latest on all of this. In the meantime, have a great weekend!