Mixed period ahead, large powerful swell next week
South Australian Forecast (issued Wednesday 2nd July)
Best Days: Thursday morning down South, early Saturday around Middleton, Sunday down South, early Monday at exposed beaches down South
Recap
The Mid's been persisting in the tiny 1-1.5ft range on the favourable parts of the tide the last couple of days, while the South Coast saw a new swell fill in yesterday under favourable winds.
Conditions are great again today with an all day offshore N/NW breeze and 3ft sets at Middleton and larger surf out at Waits and Parsons.
Thursday through the weekend (Jul 2 – Jul 6)
Our current S/SW swell across the South Coast should ease this afternoon and drop further tomorrow, bottoming out into the evening. Conditions will become tricky with a strengthening N/NW wind, so get in early for the best of it.
A good mix of W/SW and building SW groundswell are due across both coasts on Friday as an intense mid-latitude low moves in from the west. This system will generate a fetch of strong to gale-force W/SW winds through the Bight and Mid Coast's swell window today and tomorrow before pushing across us Friday, aiming a fetch of strong to gale-force SW winds into the South Coast.
This should produce 2-3ft of W/SW swell for the Mid all day Friday but conditions will be poor with a strong W/NW tending W/SW wind.
The South Coast will be clean but small in protected locations early Friday with the W/NW breeze, but a solid kick in size is due into the afternoon to 3-4ft at Middleton and 5ft at Waits as winds swing strong W/SW.
The mid-latitude low should continue off to the east Friday evening with a moderate sized S/SW swell expected to ease through Saturday from a similar size to late Friday's increase. The Mid should drop from 2ft but conditions will remain poor with a fresh but easing SW wind. The Victor region should see an early W'ly wind, favouring Middleton.
Sunday is looking much better across the South Coast as the swell drops from 2-3ft across Middleton and 2-3ft+ at Waits under light NW winds.
Next Monday onwards (Jul 7 onwards)
There's nothing too major on the cards for start of next week besides inconsistent levels of background W/SW groundswell under strengthen N/NW winds.
If you have to surf, Monday will be the day as Tuesday will become blown-out as winds reach the gale-force range.
Of greater importance is the development of a couple of large groundswell pulses as a strong node of the Long Wave Trough moves from WA, through the Bight and across us into Tuesday evening next week.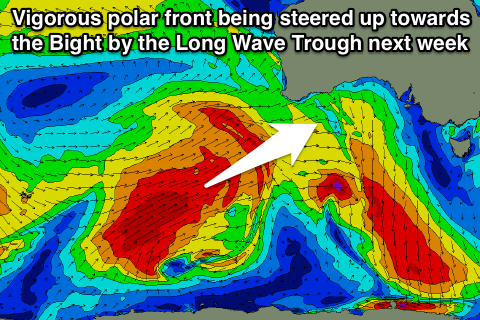 The LWT effectively steers and strengthens polar fronts up towards a position just west of where it is focussed, and this is what we'll see through next week.
An initial polar front is forecast to be steered up from the polar shelf to the south-west of WA, up towards and through the Bight from Saturday through until Tuesday next week, generating a large and powerful W/SW groundswell.
Wind speeds will be in the gale-force range, but intensify to the storm-force range through the middle of next week as the frontal system pushes across us.
What will result is a large and powerful mix of W/SW and SW groundswell for later Wednesday and Thursday morning.
Size wise, the models are still moving around a little but winds look to be gale-force onshore anyway. A drop in size is due into the end of the week but we may see another large pulse over the weekend, but check back here on Friday for more specifics on next week's large swells.