Friday, 30 May 2014
Not the best weekend, but fun through next week
South Australian Forecast (issued Friday 30th May)
Best Days: Saturday morning down South, Tuesday down South, Wednesday and Thursday on both coasts, Friday down South
Recap
The surf was clean but tiny across the South Coast yesterday, with Waits and Parsons offering the only decent sets. The Mid Coast was tiny and bumpy with a N/NE breeze.
Today a new W/SW groundswell has filled in, coming in at an inconsistent and slightly wind affected 1-2ft on the Mid Coast, while the South Coast is good in slightly protected spots with 2ft of swell at Middleton and bigger sets around 3ft at Parsons with a NE wind.
This weekend (May 31 – Jun 1)
Today's W/SW groundswell is due to ease back through tomorrow across both coasts with inconsistent 1ft to 1.5ft waves due on the Mid, but the South Coast should see a new long-range SW groundswell filling in during the day.
This swell should build to a very inconsistent 2ft to nearly 3ft at Middleton and 3ft+ at Waits during the day. Protected locations will offer the best waves and only through the morning with a NE breeze, while into the afternoon poor E/SE winds are expected.
Come Sunday there'll be no real decent surf across the region with a fresh onshore S'ly wind down South and tiny bumpy waves on the Mid with a S/SE tending S/SW breeze.
Next Monday onwards (Jun 2 onwards)
A reinforcing but small SW groundswell should keep wave heights up around a similar size Monday to Sunday and conditions should be better down South but still a little average with a light to moderate S'ly breeze. There is a small chance for more variable winds developing, but it's not worth the drive from Adelaide.
Tuesday is looking better with a morning offshore NW wind and similar 2ft to nearly 3ft of swell at Middleton and 3ft+ at Waits.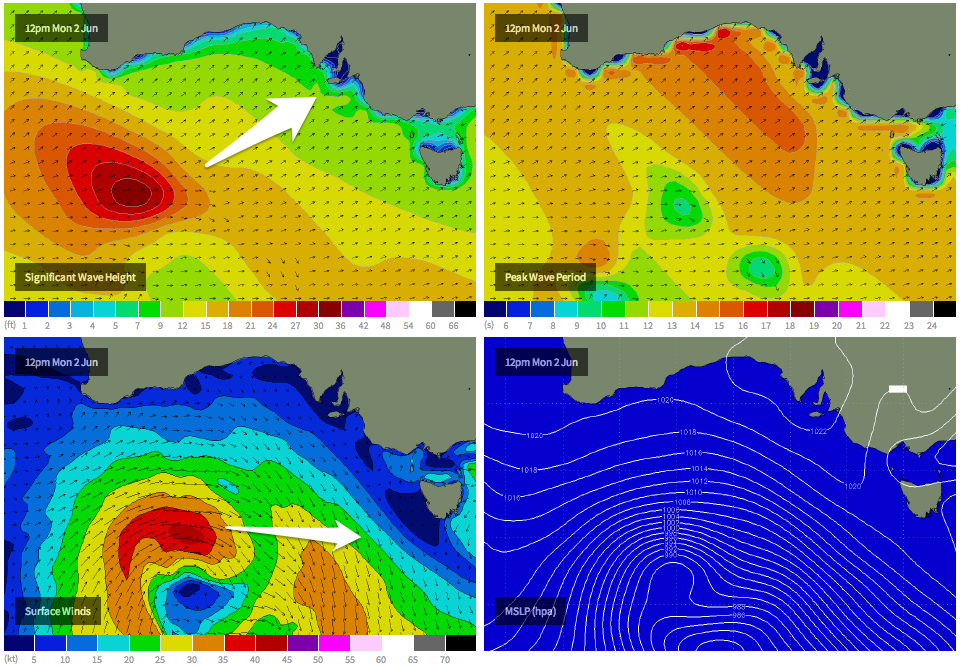 A better SW groundswell is due through Wednesday and Thursday and with favourable winds next week, generated by a mid-latitude pushing in from under WA with strength. This system should generate a fetch of W/SW gales as the low travels east-southeast towards Tassie early next week.
The swell should arrive Wednesday and build strongly during the day, reaching 3-4ft at Middleton and 4-5ft at Waits with 2ft sets on the Mid Coast into the afternoon. The South Coast should be clean during the morning as the swell builds with a NW wind, but a weak sea breeze is due into the afternoon. The Mid should see variable winds into the afternoon as the swell kicks, creating fun waves across the region.
A drop in size is due through Thursday and further Friday as winds remain favourable (tending locally offshore across both coasts each morning).
Longer term there's still nothing too major on the cards besides a junky onshore windswell next week down South. Therefore make the most of the coming period of surf and check back here Monday for the latest update. Have a great weekend!