Smaller surf until later next week
Bali and Mentawais forecast​​​​​​ by Craig Brokensha (issued Thursday 4th October)
Best Days: Swell magnets tomorrow and Saturday morning, similar Tuesday morning and then Thursday onwards
This week through next weekend (Oct 5 - 12)
Bali: OK waves yesterday afternoon and this morning at south swell magnets, small on the Bukit reefs with variable winds.
The swell is expected to ease into tomorrow ahead of a late pulse of strong new long-period S/SW groundswell, peaking Saturday.
This swell was a touch delayed across the South West Margaret River region by 3-6 hours and with this, we'll likely see a similar trend in Indonesia.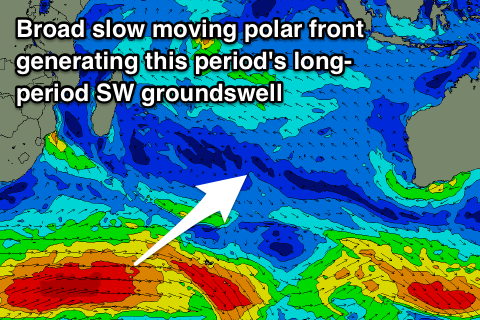 With a possible late arrival on Friday a peak is still due Saturday morning to a strong though inconsistent 6ft at exposed south facing breaks, with the possibility of sneaky 8ft cleanups at swell magnets.
The swell should ease back through Saturday afternoon, further Sunday from 4-5ft at south swell magnets.
There's nothing major on the cards for early to mid-week with the swell expected to continue easing, ahead of a moderate to large and inconsistent SW groundswell late week and over the weekend.
This swell is being generated by a strong though distant polar storm forming south of South Africa today.
A broad and slow moving fetch of gale to severe-gale W/SW winds will be projected through our swell window over the coming days, weakening around the Heard Island region tomorrow evening.
The swell will lose size and consistency as it travels towards us, arriving Thursday afternoon and building to 3-4ft+ by dark and peaking Friday to a good 6ft. The swell should then ease into the weekend, with nothing of significance on the cards until the middle of the week of the 15th. More on this Tuesday.
Moderate to fresh E/SE trades are due through the morning period, lighter and variable each morning with local land breezes.
16 day Bali Forecast Graph
16 day East Java Forecast Graph
16 day Sumbawa Forecast Graph
Ments: A small lift in S/SW groundswell should be breaking across the region today, but from here the swell will tail away, becoming small into Saturday.
The long-period S/SW groundswell impacting Bali on Saturday will side swipe the Mentawais, with the storm forming very late in our swell window.
As a result we're only due to see infrequent 3ft+ waves Sunday afternoon through Monday morning, easing into Tuesday and Wednesday.
We then look towards the better sized SW groundswell due late week, with this swell expected to offer a touch more size and consistency across our region, owing to the storm being located a little closer.
The swell will arrive Thursday and build 6ft on the sets, peaking overnight and easing slowly from a similar size Friday morning, smaller into the weekend.
Winds will persist out of the E/SE-SE each morning, tending S/SE through the afternoons, with more variable winds possible later next week as a small tropical depression forms off the coast. We'll have to review this Tuesday.
16 day Mentawai forecast graph
16 day Nias forecast graph
16 day South Sumatra forecast graph