Large powerful SW groundswell, slower thereafter
Bali and Mentawais forecast​​​​​​ by Craig Brokensha (issued Thursday 27th September)
Best Days: Every day over the coming period besides Tuesday afternoon/early Wednesday
This week through next weekend (Sep 28 – Oct 5)
Bali: A new long-period SW groundswell should be breaking across the archipelago today and we'll see this swell ease off through tomorrow morning ahead of a late increase in very long-period SW groundswell.
This swell impacted Western Australia today on forecast and we should see the swell building overnight Friday and further through Saturday to a strong though inconsistent 6-8ft into the afternoon across swell magnets.
A slow drop in size should then be seen Sunday from a similar size, smaller into Monday with the swell bottoming out later Tuesday and early Wednesday.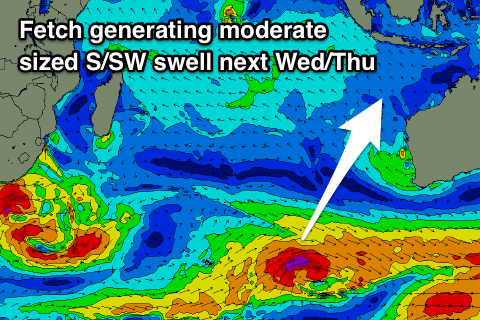 Winds will remain a little funky tomorrow with weak variable breezes in the morning, and afternoon S'ly sea breezes, with more regular E/SE trades kicking back in from the weekend and through next week.
A new long-period S/SW groundswell is due mid-week, building Wednesday and peaking overnight before easing Thursday, generated by a flurry of less than favourably aligned but persistent polar frontal activity south-west of WA.
Initial pre-frontal W/NW gales will setup an active sea state for a better aligned fetch of gale to severe-gale W/SW winds to move over in our southern swell window, generating a long-period S/SW groundswell that is due to build Wednesday and reach 4-5ft+ across south swell magnets, easing from a similar size Thursday.
The possible larger swell for the weekend has been downgraded with the severe low that was forecast to form south-west of WA now strengthening more below Australia, out of our swell window.
More on this Tuesday.
16 day Bali Forecast Graph
16 day East Java Forecast Graph
16 day Sumbawa Forecast Graph
Ments: A good kick in long-period S/SW groundswell should have been been seen yesterday, with a slow drop through today.
The long-period, large and strong SW groundswell due tomorrow is expected to build steadily through tomorrow, reaching 8ft on the sets by dark with a peak Saturday coming in just over this with solid cleanups across swell magnets.
A slow drop in size is then expected through Sunday from 6ft+, further into next week, and bottoming out Wednesday morning.
The S/SW swell due across Bali Wednesday/Thursday will come in smaller across our region and only provide a slight bump to 3-4ft, easing into the end of the week.
Winds look persistent out of the SE each morning, fresh and gusty into the afternoons from the S/SE and stronger later in the weekend, before easing into next week.
Longer term a new small to moderate sized SW groundswell is likely Sunday the 7th, but more on this Tuesday.
16 day Mentawai forecast graph
16 day Nias forecast graph
16 day South Sumatra forecast graph