Good winds and swell from tomorrow, larger again late next week
Bali and Mentawais forecast​​​​​​ by Craig Brokensha (issued Thursday 6th September)
Best Days: Every day over the coming period
This week and next (Sep 7 - 14)
Bali: The surf has bottomed out today leaving small peaky leftovers across the region, still good for a morning grovel.
Later today we should start to see the long-period forerunners of tomorrow's large S/SW groundswell filling in, with the swell due to build all day and peak overnight before easing Saturday.
This swell was generated by a strong and slow moving polar frontal progression the developed late last week, with the final stages of the storm moving across WA yesterday.
Exposed south magnets should build strongly to 8-10ft on the sets by late afternoon and then ease from the 8ft+ range on Saturday, smaller into Sunday.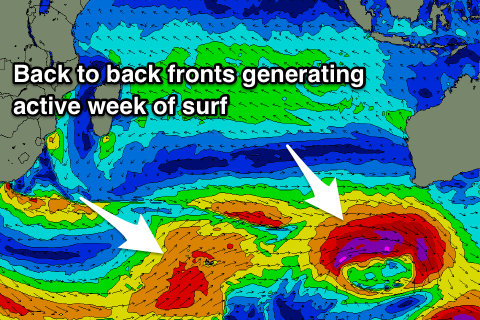 We'll see the swell continuing to drop through Monday ahead of a late pulse of new S/SW groundswell, peaking Tuesday morning.
This is being generated by a relatively weak polar front that formed around the Heard Island region yesterday, producing a fetch of W/SW gales. This front is now weakening while broadening and projecting north-east towards the south of WA, ideally through our southern swell window.
A moderate to large sized S/SW groundswell should result, kicking later Monday to 4-5ft+ later in the day and peaking Tuesday in the 6ft range, if not for the rare bigger one.
This is under the model expectations with Wave Watch incorrectly combining an existing mid-period swell with the new long-period swell.
Into Wednesday a better reinforcing long-period S/SW groundswell is due to fill in, produced by a much stronger storm developing west-southwest of WA, aiming a fetch of severe-gale to storm-force W'ly winds on the periphery of our swell window.
While not ideally aimed we should still see 6-8ft sets across magnets through the day, easing back into Thursday morning.
Two additional pulse of S/SW groundswell are due, the second being largest, produced by a good broad polar frontal progression projecting gales north-east across the Heard Island region, followed very closely behind by a stronger smaller fetch of severe-gales on top the active sea state.
Two close-spaced S/SW groundswell will be generated, the first arriving Thursday afternoon, with the secondary for Friday morning.
We'll see sets pushing towards the consistent 8ft range later Thursday with Friday offering 8ft+ waves across swell magnets.
The easing trend through next weekend and early the following week will likely be slowed by some reinforcing energy from continued though slightly weaker polar frontal activity, but more on this Tuesday.
Looking at the winds and moderate to fresh E/SE trades are due tomorrow and over the weekend, weaker and taking a slight SE bias through next week. Each morning will see periods of variable winds due to local land breezes.
16 day Bali Forecast Graph
16 day East Java Forecast Graph
16 day Sumbawa Forecast Graph
Ments: Some new inconsistent long-period SW groundswell should be on the build across the region today, reaching 4-5ft+ and holding a similar size tomorrow morning.
This will be ahead of the new long-period S/SW groundswell, building to at least 6ft+ by dark if not 6-8ft and peaking Saturday morning to 6-8ft.
We'll then see the S'ly swell easing through the afternoon, further Sunday and Monday.
The S/SW groundswells for Bali will be generated late in our swell window and not ideally aimed until the back to back polar storms push up across Heard Island.
So the initial increases in swell for Tuesday through Thursday look to come in around 4-5ft+ on the former, easing a touch into Wednesday morning ahead of a slightly stronge4 4-6ft south swell later in the day and Thursday morning.
The better aligned fronts pushing north-east from the Heard Island region will produce the best swells for later next week, pushing to 6-8ft Friday before easing into next weekend.
Conditions will be great over the coming days and until Monday with generally variable winds, kicking back in from the SE from Tuesday, persisting through the end of the week.
16 day Mentawai forecast graph
16 day Nias forecast graph
16 day South Sumatra forecast graph