More active period ahead from late week
Bali and Mentawais forecast​​​​​​ by Craig Brokensha (issued Tuesday 4th September)
Best Days: Thursday onwards
This week and next (Sep 5 - 14)
Bali: Large levels of easing S/SW tending S'ly swell across the region through the weekend, further into the start of this week, with the surf expected to bottom out Thursday morning.
Therefore hit the swell magnets early tomorrow with variable breezes, and give it a miss Thursday.
Late in the day Thursday we should see a hint of new long-period S/SW groundswell building across the coast, ahead of the bulk of the swell filling in Friday.
This groundswell, mentioned the last few updates, has been generated by a strong and slow moving polar frontal progression through the southern Indian Ocean.
Late last week we saw an initial broad fetch of strong to gale-force W/SW winds setting up an active sea state for an additional fetch of gale to near severe-gale W/SW winds to move on top of.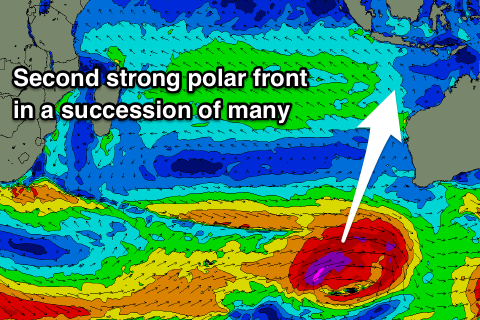 This secondary fetch has been projecting slowly up towards Western Australia and will push across the state this afternoon and evening.
A large long-period S/SW groundswell has been generated, with it due to fill in strongly on Friday, building to a consistent and large 8-10ft on the sets across south swell magnets through the afternoon.
A peak is due overnight, easing off slowly Saturday from 8ft+, smaller into Sunday and Monday.
From Monday afternoon though we're set to see an active period of moderate to large S/SW groundswells as a strong node of the Long Wave Trough stalls across Western Australia.
This will project back to back polar storms through our southern swell window, the first later this week, followed by a secondary stronger system Friday evening and Saturday, then third system Sunday and Monday.
We'll see a moderate to large S/SW groundswell from the first storm building later Monday and peaking Tuesday morning to 6ft+ across exposed breaks, with a secondary larger pulse for the afternoon to a similar size, peaking Wednesday morning more to the 8ft+ range.
The third swell should then provide another large S/SW groundswell pulse for later Thursday and Friday morning to 8ft or so on the sets.
Looking at the winds through this period and moderate to fresh E/SE trades are expected, lighter and more variable each morning with local land breezes.
16 day Bali Forecast Graph
16 day East Java Forecast Graph
16 day Sumbawa Forecast Graph
Ments: The swell has eased back into the start of this week and winds are strengthening out of the SE as a strong high pressure ridge is squeezed to our south-west.
This will generate some mid-period S/SE swell through the middle to end of the week ahead of the long-period S'ly groundswell due Friday and Saturday.
Just ahead of this though an inconsistent new long-period SW groundswell should build through Thursday, reaching 4-5ft+ into the afternoon, holding Friday morning.
The larger groundswell, produced by the slow moving polar frontal progression late in our swell window should arrive through Friday and build to at least 6ft+ by dark, if not 6-8ft and and hold a similar size Saturday morning.
A steady drop in size should then be seen through the afternoon, further Sunday and Monday.
The storms firing up towards WA later this week and into the weekend will again be late in our swell window, with less size expected across our region.
The first pulse for later Monday and early Tuesday looks to be around 4-5ft+, easing ahead of the secondary swell Wednesday more to 6ft on the sets.
The best increase might be the late week swell, but we'll review this Thursday.
Winds look to persist out of the SE-E/SE for the most parts across the southern Ments through the coming forecast period, more variable further north.
16 day Mentawai forecast graph
16 day Nias forecast graph
16 day South Sumatra forecast graph