Fun swells this week, larger SW energy next week
Bali and Mentawais forecast​​​​​​ by Craig Brokensha (issued Tuesday 12th June)
Best Days: Every day over the coming period, smallest dawn Friday and Sunday morning
This week and next (Jun 13 - 22)
Bali: Fun though weakish waves to finish off the Margaret River Pro/Uluwatu CT on the weekend, with the swell bottoming out yesterday afternoon.
Today and more so this afternoon we should be seeing a strong new long-period S/SW groundswell building across the region, reaching 6ft to most likely 8ft across magnets by dark today.
We should see the swell easing back from a similar size tomorrow morning, smaller into Thursday and bottoming out early Friday ahead of our new less consistent long-period S/SW groundswell.
This swell was generated over the weekend by a small tight intense low that developed west of Heard Island, pushing east-northeast towards WA.
The swell looks to be a touch smaller than our current episode, and the models are incorrectly combining the existing swell with the new long-period energy.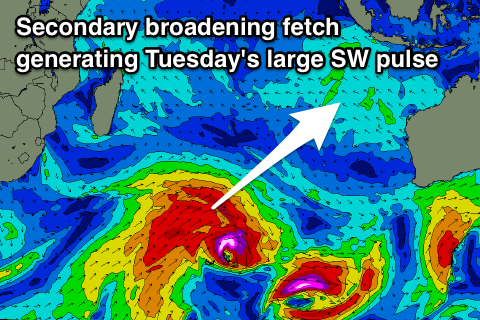 We're due to see a late spike in size to 6ft+ across south magnets Friday, easing back from 4-6ft Saturday morning, smaller Sunday.
Moderate to fresh E/SE trades are expected over the coming days (lighter and more variable at dawn each morning) with a slight strengthening of the trades from the weekend into next week.
Our larger stronger groundswells on the cards into next week are looking good, with a broad, slow moving and multi-threaded storm currently developing south-east of South Africa and Madagascar.
We're seeing a tight initial mid-latitude front project a short-lived fetch of severe-gale to storm-force W'ly winds through our south-western swell window, producing a new long-period SW groundswell for late Sunday and more so Monday morning to an inconsistent 6ft on the sets.
A secondary broadening storm will then generate pre-frontal severe-gale W/NW winds followed right behind by post-frontal severe-gale W/SW winds that will weaken and stall in our south-western swell window.
This will generate another long-period SW groundswell pulse for late Monday but more so Tuesday to 6-8ft across exposed breaks, easing a touch into Wednesday morning.
A sling-shot of SW gales on the backside of the storm through our southern swell window will produce a large reinforcing S/SW groundswell for later Wednesday and Thursday morning to 6-8ft again.
Things will then settle down a little from here, but more on this next update.
16 day Bali Forecast Graph
16 day East Java Forecast Graph
16 day Sumbawa Forecast Graph
Ments: Average winds the last couple of days, with a new S/SW groundswell on the build this afternoon. We should see winds improve from tomorrow, tending more E/SE and backing off with the groundswell coming in at a good 6ft on the sets across south magnets.
The swell is expected to ease off late and drop back into Thursday ahead of the less consistent S/SW groundswell on Friday. The low wasn't ideally aligned for us, and we're expecting smaller surf compared to Bali to 4-5ft across swell magnets.
Winds look to swing from E/SE-SW most days before becoming more variable into Sunday.
Of greater importance are the better SW groundswells for next week.
The first pulse is due to arrive Sunday afternoon around our region and come from the S/SW, building to 4-5ft+ by dark.
Monday looks to come in a similar size, ahead of the larger SW groundswell pulse into the afternoon, kicking to an easy 6-8ft and remaining around that size through most of the week while swinging more S/SW direction into Wednesday/Thursday.
We're likely to see the odd bigger cleanup through this swell event especially later Monday and Tuesday morning. It looks like SE winds will kick back in again from Tuesday, but more on this next update.
16 day Mentawai forecast graph
16 day Nias forecast graph
16 day South Sumatra forecast graph