Good swell tomorrow, becoming near flat until mid-next week
Bali and Mentawais forecast​​​​​​ by Craig Brokensha (issued Tuesday 15th May)
Best Days: Tuesday, Wednesday, Thursday morning swell magnets, next Thursday onwards
This week and next week (May 16 - 25)
Bali: Large surf Monday with a good new long-period S/SW groundswell, easing back through today across the region, though we've got one more large pulse of SW groundswell before things go a little quiet.
Late last week the third storm in a flurry of activity through the southern Indian Ocean projected a fetch of severe-gale W/SW winds towards WA, through our south-western swell window, generating a large SW groundswell for tomorrow.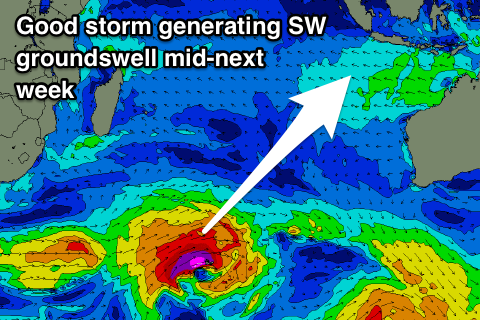 This swell came in strong across WA yesterday and should provide solid 6-8ft sets across swell magnets through the day, easing back later in the day and further from 4-5ft+ Thursday morning smaller into the end of the week.
Gusty E/SE trades will keep the Bukit reefs clean, with more variable winds around dawn each morning.
Unfortunately as touched on last updated, there's no new swell due at all from the weekend through early next week with the Bukit becoming flat, and even magnets small to tiny.
We're actually likely to see swell more from the SE than the normal SW direction owing to strong E/SE trades extending down towards Australia.
Background swell energy doesn't look to really offer much above 3ft at magnets Tuesday and Wednesday, while a better SW groundswell is due to fill in Thursday afternoon.
This will be generated by a strong storm developing south-east of South Africa late this week, generating a fetch of gale to severe-gale W/SW winds in our south-western swell window.
Surf to 4-5ft+ is expected into afternoon Thursday the 24th, easing back from 4-5ft Friday morning. Following this there's a couple of new swell possibilities, but check back Thursday for more on this.
16 day Bali Forecast Graph
16 day East Java Forecast Graph
16 day Sumbawa Forecast Graph
Ments: New swell seen later Sunday and yesterday should be easing back temporarily through today, but the larger S/SW groundswell for tomorrow should see good sets to 6ft across the region through tomorrow, easing off steadily from Thursday.
We're looking at variable winds tomorrow, possibly S/SE during the early morning, while as per Bali there's no new swell energy really due until mid-next week. Wednesday's showing an incorrect spike in size as the models incorrectly combine background long-period and mid-period energy.
The SW groundswell for Thursday will be generated a bit closer to us, and should provide good 4-6ft sets as winds remain favourable, with good follow up energy into the end of the week and next weekend. More on this Thursday though.
16 day Mentawai forecast graph
16 day Nias forecast graph
16 day South Sumatra forecast graph