Fun swells from tomorrow through mid-next week
Bali and Mentawais forecast​​​​​​ by Craig Brokensha (issued Tuesday 8th May)
Best Days: Tomorrow through Thursday next week both regions
This week and next (May 9 - 18)
Bali: We should be seeing an increase in S/SW groundswell across the coast today, with the swell coming in nicely across WA over the weekend and Monday.
Swell magnets are due to see 6ft sets by dark today (smaller on the Bukit), holding through tomorrow and then easing back slowly from 4-6ft Thursday morning.
Moving into Friday and our new long-period and inconsistent S/SW groundswell has been upgraded a little.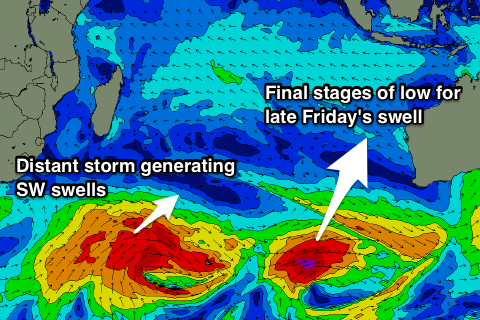 From late last week through the weekend and into early this week we've seen a strong though small polar low generating severe-gale to some-times storm-force winds in our swell window.
We should see this long-period S/SW groundswell building through Friday, biggest late in the day, peaking overnight and easing Saturday morning.
Swell magnets should see infrequent but strong 6ft+ by dark, easing from 6ft Saturday morning, smaller Sunday.
Looking at conditions and gusty E/SE trades are expected over the coming week and weekend, light and variable each morning with local land breezes.
Into next week we'll see the trades weaken right back for a couple of days with a small depression in the region.
Our next swell should arrive from the SW, building Sunday afternoon, peaking Monday followed by a secondary pulse for the afternoon and third Wednesday.
The first swell will be produced by a strong and broad but distant storm south-east of South Africa, with a secondary and third burst of W/SW gales on the back of this activity due to generate reinforcing swells for Monday afternoon and then Wednesday.
We should see the first swell should kick Sunday afternoon and peak Monday morning to 4-6ft at magnets, with the secondary pulse for the afternoon being similar in size.
A slight drop should be seen Tuesday, with Wednesday's swell being strongest and to 5-6ft+.
From here the outlook is a bit quiet so check back Thursday for an update on this.
16 day Bali Forecast Graph
16 day East Java Forecast Graph
16 day Sumbawa Forecast Graph
Ments: We should be seeing a mix of SW and S/SW swells across the region today, with the later holding 4-5ft through tomorrow before easing into Thursday.
The models seem to be combining a couple of swells Thursday and showing a kick in size, but this is unlikely.
Moving into the end of the week, and the long-period and inconsistent S/SW groundswell should start building across the region. The morning looks smallish, but come late in the day, exposed breaks should see 6ft sets, dropping from 4-6ft Saturday morning.
The SW groundswell energy for Bali later Sunday through Wednesday will be better aligned for us, providing a touch more size and consistency.
The first increase is due through Sunday, building into the afternoon to 5-6ft by dark on the sets, persistingmost of Monday with the secondary pulse.
A drop in size is then expected Tuesday ahead of the third more southerly S/SW swell Wednesday. This looks to offer good 5-6ft sets again before easing into the end of the week.
Winds look to have a slight S/SE bias tomorrow, easing into Thursday and then becoming variable, persisting most of next week.
16 day Mentawai forecast graph
16 day Nias forecast graph
16 day South Sumatra forecast graph