Mid-period SW swell late week ahead of a very large SW groundswell Sunday/Monday
Bali and Mentawais forecast​​​​​​ by Craig Brokensha (issued Tuesday 17th April)
Best Days: Swell magnets Wednesday and Thursday, Friday onwards, experienced surfers only Sunday through early next week
This week and next (Mar 18 - 27)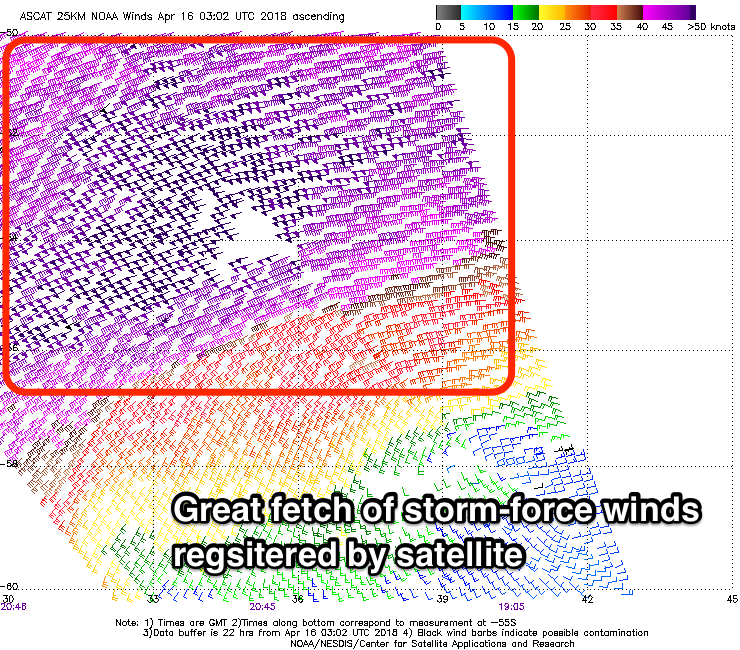 Bali: Our large powerful but inconsistent mix of SW and S/SW groundswell came in strong yesterday, offering solid sets across the region, with good large surf again this morning, though we're on the backside of the event.
We'll continue to see the surf ease into tomorrow from 4-5ft on the sets at swell magnets, smaller on the Bukit reefs, bottoming out Thursday morning.
A new mid-period SW swell should arrive later Thursday and peak Friday, produced by a small tight and persistent mid-latitude low in our swell window over the weekend and yesterday.
The direction is good, but the strength of the swell not ideal, with exposed breaks kicking back to 4-5ft+, easing slowly into Saturday.
We're looking at fresh E/SE trades through tomorrow (variable in the morning), easing right back and tending variable Thursday through Saturday before weak trades kick in again from Sunday.
Our attention then shifts to a large, powerful though inconsistent long-period SW groundswell due later Sunday and Monday next week.
A large and powerful low has formed south of South Africa Sunday night, with a fetch of severe-gale to storm-force W/SW winds already picked up by satellite.
Similar strength winds were projected through our south-western swell window yesterday, but we're now seeing the low slowly weaken while continuing on an east-northeast track through the southern Indian Ocean.
As the storm tracks closer to WA it will continue to weaker, but the persistent fetch of strong W/SW winds in our swell window will slow the swell decay a little.
We're due to see a large powerful long-period SW groundswell arriving Sunday morning, with a large kick in size due through the afternoon and late in to 6ft+ across swell magnets, ahead of a peak Monday to 8ft to occasionally 10ft.
We'll then see the swell slowly ease through Tuesday from 6-8ft, back to the 5-6ft range Wednesday.
Beyond this a new S/SW groundswell should fill in Friday the 27th, generated by a small but strong polar low forming around the Heard Island region on the weekend and projecting towards WA. Surf in the 5-6ft range is likely, but check back Thursday for the latest on this.
16 day Bali Forecast Graph
16 day East Java Forecast Graph
16 day Sumbawa Forecast Graph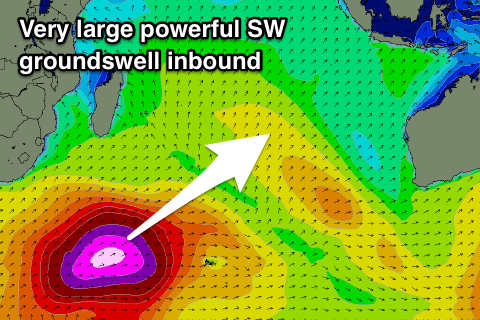 Ments: The surf's currently on the ease across the region and will bottom out tomorrow, ahead of the mid-period S/SW swell from the mid-latitude low.
We should see south magnets building to 4-6ft Thursday afternoon, and possibly early Friday before easing into the afternoon, smaller Saturday.
Now, the storm linked to Bali's large powerful SW groundswell Sunday/Monday is positioned closer to us and this will result in more size across the Mentawais, with a large and rapid kick in size Sunday, reaching 10ft+ across swell magnets late in the day, easing back slowly from 8-10ft+ Monday morning, more so Tuesday and Wednesday.
Winds look favourable through the whole period and generally variable, but this swell will only be for the most experienced surfers, with the power and size to it.
16 day Mentawai forecast graph
16 day Nias forecast graph
16 day South Sumatra forecast graph