Very inconsistent SW energy, new S/SW swell early next week
Bali and Mentawais forecast​​​​​​ by Craig Brokensha (issued Tuesday 29th August)
Best Days: Wednesday afternoon through Saturday, then Monday onwards
This week and next (Aug 30 - Sep 8)
Bali: An increase in S/SW groundswell during yesterday is easing off through today and will become smaller tomorrow, bottoming out Thursday morning.
Only exposed swell magnets will offer decent sized surf, and the mornings are the go with variable winds before E/SE trades kick in.
We then look to the very inconsistent long-period and long-range SW groundswell due Thursday afternoonand Friday. This swell, generated early last week by a strong storm south of South Africa will arrive Wednesday in the form of 22s forerunners but with no size.
We should see a slow increase in size Thursday, reaching 5ft+ by dark across magnets and peaking Friday to6ft on the sets.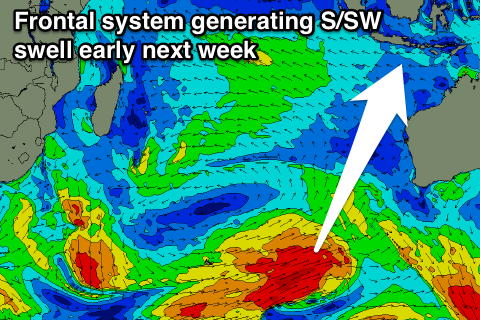 Due to the very large distance between us and where the swell was created, there'll be waits of sets in the vicinity of 10 minutes or so.
We'll see the swell ease off through Saturday, further Sunday leaving no major size across the region.
Our next swell is due Monday, produced by a vigorous polar frontal progression forming in the Heard Island region and projecting north-east towards WA. A secondary trailing front will move up on top of the active sea state and further north across the central WA coast, producing some additional mid-period swell.
We'll see a large S/SW groundswell produced but it looks like the models are over-forecasting the size, with exposed breaks due to build to the 8ft range through Monday, easing back from 6-8ft Tuesday.
We're likely to see a secondary long-period and less consistent S/SW groundswell for later Wednesday and Thursday morning from a stronger but more distant polar front, but more on this Thursday.
16 day Bali Forecast Graph
16 day East Java Forecast Graph
16 day Sumbawa Forecast Graph
Ments: The swell impacting Bali was generated too late to really offer any major size across the Ments, but we should be seeing inconsistent stets to 3-5ft across south magnets today.
This swell will fade tomorrow, but the long-period SW groundswell should start building with good sets to 3-5ft late in the day, on dark, with a peak Thursday afternoon to 6ft+. The swell should then ease slowly from 5-6ft Friday, smaller into the weekend.
Winds will remain good tomorrow, but into Thursday average S/SE breezes will kick in, favouring protected breaks. More variable winds should devleop into early next week and this will be with the new S/SW groundswell mentioned for Bali. This swell will be a touch smaller across the Ments, with exposed breaks due to build to 6ft+ Monday, easing from Tuesday. More on this in the next update though.
16 day Mentawai forecast graph
16 day Nias forecast graph
16 day South Sumatra forecast graph