Large back to back swells for the islands
Bali and Mentawais forecast​​​​​​ by Craig Brokensha (issued Thursday 27th July)
Best Days: Every day over the coming period for experienced surfers
This week and next (Jul 28 – Aug 4)
Bali: Currently a very inconsistent long-period SW groundswell is filling in across the islands, generated by a vigorous storm firing up under South Africa last week. This swell provided great waves into the last day of the Corona J-Bay Open and should reach an infrequent 8ft+ across exposed breaks later this afternoon, easing back slowly through tomorrow from 8ft. This will be under the threshold to run the Rip Curl Padang Cup in my opinion.
Our models are incorrectly combining this swell and some mid-range energy tomorrow morning, with a peak actually due overnight, not tomorrow morning.
The swell should ease a touch through the day but steady Saturday in the 6ft+ range at exposed breaks.
Into later Sunday and more so Monday we should see some large new S/SW groundswell across the region, generated by a vigorous mid-latitude storm that's currently west of WA.
A fetch of severe-gale W/SW winds are being projected through our swell window yesterday, with a broader low currently forming, generating an additional fetch of severe-gale S/SW winds towards us.
A large pro-longed S/SW groundswell event is expected, building Sunday to 8ft by dark, with a peak Monday in the 8ft to occasionally 10ft range at exposed breaks.
A slow drop in size is expected through Tuesday, further into Wednesday ahead of our next large groundswell event.
This will be another S/SW groundswell, with the storm linked to it currently forming south-east of South Africa.
A polar low is generating a fetch of severe-gale W'ly winds, and we'll see this system projecting north-east towards us while continuing to produce SW gales.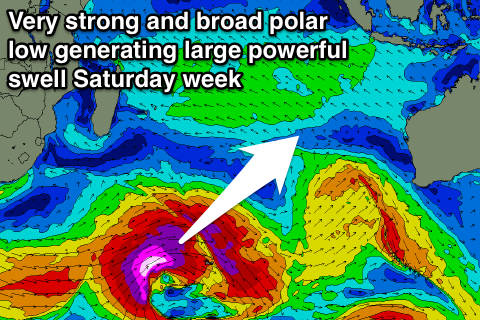 A large consistent S/SW groundswell should result, arriving Thursday morning and building to 6-8ft later in the day, peaking Friday more to 8ft. Our models are combining a mid-period S'ly swell from strong SE trades with the S/SW groundswell Thursday and over-forecasting the size, so keep that in mind.
Into the weekend the largest swell for the period is due, generated by a very broad, intense and slow moving polar low through the southern Indian Ocean.
The models have a broad and vigorous fetch of storm-force W/SW winds forming between South Africa and Heard Island, projecting east during the weekend before slowly breaking down east of Heard Island Monday evening and Tuesday.
A very large long-period SW groundswell will develop, arriving overnight Friday and building strongly Saturday.
We should see exposed breaks across the region reaching 10ft to occasionally 12ft before easing off slowlythrough Sunday.
Coming back to the local winds over the coming period and moderate to fresh E/SE trades are expected through until Tuesday when winds will tend a little more SE. Early each morning local land breezes will create more variable winds.
16 day Bali Forecast Graph
16 day East Java Forecast Graph
16 day Sumbawa Forecast Graph
Ments: A large and powerful SW groundswell is currently filling in across the region, offering 8-10ft sets with SE winds. Protected spots are offering the best conditions and we'll see this swell ease through tomorrow, furtherinto Saturday and Sunday morning.
The S/SW swell impacting Bali later Sunday and Monday next week will arrive across our region later Sunday, building to 6ft later in the day and peaking Monday morning with 8ft sets at exposed breaks.
A drop in size is through the afternoon, further into the middle of the week ahead of Thursday's large S'ly groundswell.
Again exposed breaks should kick to the 8ft range, if not for the odd bigger one later in the day and with plenty of consistency.
The largest of all the groundswells next Saturday should come in strongly through the day, reaching 10ft+ across exposed breaks into the afternoon.
We'll have another look at this swell Tuesday, but coming back to the winds and today's SE'ly will ease through tomorrow, becoming more variable into the weekend and taking a slight SE tendency mid-late week.
16 day Mentawai forecast graph
16 day Nias forecast graph
16 day South Sumatra forecast graph