Slow going for Indo
Bali and Mentawais forecast​​​​​​ by Craig Brokensha (issued Thursday 22nd June)
Best Days: No great days, hit the magnets each morning
This week and next (Jun 23 - 30)
Bali: It's been slow across the region the last few days and this will continue over the coming forecast period.
There's nothing too significant due at all, and the swells arriving through the weekend and early next week will be super south. The swells for Saturday and Sunday are being generated by a tight and intense low that formed off the WA coast a couple of days ago.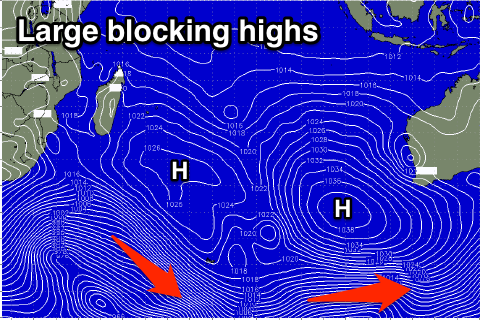 This low generated a good fetch of gale to severe-gale winds around the western flank of the low, generating a S'ly swell for us Saturday and Sunday.
South magnets should build to 4-5ft on the sets Saturday afternoon, persisting Sunday.
Into Monday we'll see some less consistent but longer-period S/SW groundswell from a strong polar frontal progression that's currently south-southwest of WA.
A fetch of gale to severe-gale SW winds are being generated right on the edge of our swell window which isn't ideal, but we should see sets hitting that 4-6ft range when it fills in Monday ahead of a slow easing trend Tuesday.
E/SE trades are expected to ease a touch over the coming days, becoming more variable Tuesday before freshening again Wednesday afternoon/Thursday.
Longer term there's nothing major due for the rest of the week with small background SW groundswell energy. This will be linked to a set of large blocking highs setting up across the Indian Ocean through next week leaving us to rely on distant small background energy.
We may see a good S/SW groundswell early the first week of July, but more on this next update.
16 day Bali Forecast Graph
16 day East Java Forecast Graph
16 day Sumbawa Forecast Graph
Ments: The region has also been slow in the wake of the good swell last week and there's not too much on the cards either besides small background energy.
A broad and strong fetch of SE trades to our south will generate moderate amounts of mid-period S'ly swell for south magnets over the weekend and early next week.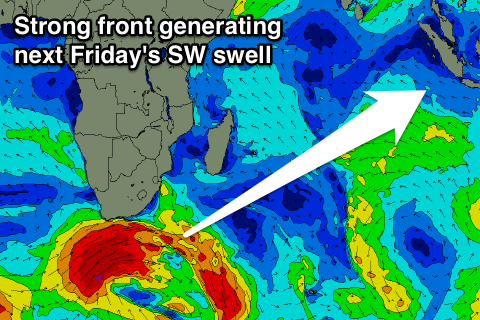 Sets to the 3-4ft range are due, fading from Monday afternoon.
We'll then see background SW groundswell energy coming in around 3-5ft from Monday afternoon through Thursday morning.
Into Thursday afternoon and Friday morning, a very inconsistent long-period SW groundswell is due, produced by a very strong low that's currently under South Africa.
A fetch of severe-gale to storm-force W/SW winds are being generated, with the low weakening into tomorrow.
We should see fun but infrequent sets to 5-6ft across magnets before easing into the weekend.
Longer term nothing major is showing up, but more on this Tuesday.
Winds over the coming period look variable the next few days, coming up a little from the S/SE early to mid-next week, variable again later.
16 day Mentawai forecast graph
16 day Nias forecast graph
16 day South Sumatra forecast graph