Very large and powerful S/SW groundswell to end the week
Bali and Mentawais forecast​​​​​​ by Craig Brokensha (issued Tuesday 9th May)
Best Days: Most days across Bali (experienced surfers Thursday through Saturday), Wednesday through Tuesday in the Ments
This week and next (May 10 - 19)
Bali: A strong new swell filled in Sunday afternoon, peaking yesterday morning before easing back into the afternoon and further this morning. Conditions each morning were a little ridgey on the Bukit reefs, ironing out through the day.
We'll see the swell continue to ease back through tomorrow ahead of our new large SW groundswell Thursday and Friday.
This swell is currently building rapidly across Western Australia, generated since late last week and through the weekend by a vigorous polar frontal progression. A fetch of severe-gale to storm-force SW winds were projected north-east through our south-west swell window, high into the Indian Ocean.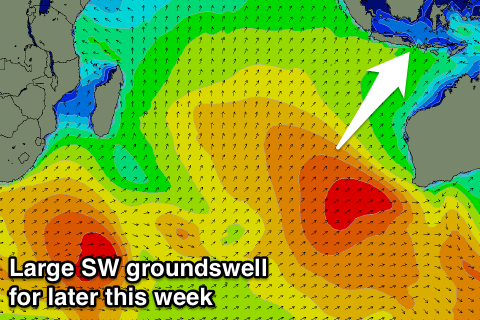 A large and powerful SW groundswell has resulted and should arrive overnight Wednesday, building rapidly through Thursday to 10ft+ across exposed reefs later in the day.
A peak in size is due overnight, with a steady drop in size back from 8-10ft Friday morning, further from 6ft to occasionally 8ft Saturday.
We'll continue to see the swell drop away through Sunday and early next week, with no new significant storms forecast to develop until later this week.
We'll see a weak fetch of SW winds developing north-east of Heard Island, followed by a secondary front projecting north towards us while generating slightly stronger sub-gale-force S/SW winds.
This will produce a mid-period S/SW swell for later Tuesday and more so Wednesday morning, coming in at 5-6ft across exposed breaks, easing back into the afternoon and further Thursday.
Beyond this there's nothing major standing out on the long term charts with moderate levels of inconsistent S/SW groundswell due into the week starting the 22nd, but more on this Thursday.
Looking at the winds for the coming period and fresh E/SE trades are expected to persist through the coming few days (variable early each morning) easing off from Sunday through until Tuesday. From here we may see the trades increase a little again.
16 day Bali Forecast Graph
16 day East Java Forecast Graph
16 day Sumbawa Forecast Graph
Ments: Our good run of S/SW groundswell the last couple of days is currently easing, but into tomorrow we'll see the surf building again out of the S/SW.
An initial increase in mid-period S/SW swell will be the pre-cursor to the larger S/SW groundswell event Thursday.
We should see exposed breaks building to an easy 6ft by close of play tomorrow, with the large groundswell peaking Thursday to 8-10ft. Friday will see the swell dropping away from the 8ft range on the sets, smaller into the weekend, bottoming out Monday.
The small mid-period S/SW swell for later Monday/Tuesday looks limited in size across the Ments, coming in at 3-5ft max, smaller for the rest of the week.
Winds over the coming period look good with variable breezes from the NW until early next week, when we may see weak S/SE breezes.
16 day Mentawai forecast graph
16 day Nias forecast graph
16 day South Sumatra forecast graph