Great waves for the period, slower from mid-next week
Bali and Mentawais forecast​​​​​​ by Craig Brokensha (issued Thursday 20th April)
Best Days: Every day on both coasts until later next week when it gets smaller
This week and next (Apr 21 - 28)
Bali: Fun waves this morning with a moderate sized swell across the region, but a new powerful S/SW groundswell has since built, providing large sets across the island with moderate trades.
The swell pulsed strongly around Margaret River to 10-12ft, but eased off quickly thereafter, so I'd expect a similar trend across Bali.
We should see exposed breaks kicking to 8ft, smaller on the Bukit with the southerly direction, easing back tomorrow quickly from 6ft to occasionally 8ft.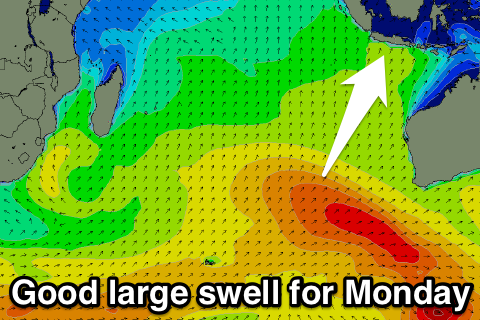 During Saturday a new S/SW swell should stop the easing trend further, generated by a strong mid-latitude frontal system projecting towards the South West of WA the last couple of days.
Exposed spots should persist at 6ft all day, if not for the odd bigger one through the afternoon, easing back Sunday.
Our large S/SW groundswell for Monday is still on track, with back to back mid-latitude fronts producing fetches of severe-gale W/SW winds, the secondary fetch over the active sea state generated by the first.
This will help generate a larger swell, with good 6-8ft+ sets due across exposed breaks most of the day, easing back trhough Tuesday from 5-6ft+ and further Wednesday and Thursday.
Late week a small to moderate sized S/SW groundswell is due, generated in our far southern swell window, south-southwest of Western Australia. The late forming storm is only due to keep swell magnets kicking at 4-5ft before easing through next weekend.
Longer term some inconsistent but good SW groundswell is due into the following week, but more on this Tuesday.
Winds are still looking favourable over the coming period with variable breezes each morning ahead of weak E/SE trades tomorrow through Wednesday, tending more variable later next week.
16 day Bali Forecast Graph
16 day East Java Forecast Graph
16 day Sumbawa Forecast Graph
Ments: The surf should have been on the smaller side this morning, but the strong new S/SW groundswell is now filling in, with a peak expected tomorrow morning to 6ft to possibly 8ft at south swell magnets.
An afternoon decrease should be seen, while Saturday's reinforcing swell is expected to keep exposed breaks around 5-6ft before easing a touch Sunday.
The large swell for Monday is looking great, with a bit more size than Friday's, hopefully providing consistent 6-8ft waves across the Mentawais all day before easing back from the 6ft range Tuesday morning, further into the end of the week.
Conditions are looking great through the whole period with variable winds each morning with localised sea breezes.
16 day Mentawai forecast graph
16 day Nias forecast graph
16 day South Sumatra forecast graph