Large south swells for the period
Bali and Mentawais forecast​​​​​​ by Craig Brokensha (issued Tuesday 18th April)
Best Days: Every day over the coming period with plenty of swell
This week and next (Apr 19 - 28)
Bali: After moderate sized waves over the weekend and Monday, an inconsistent but new S/SW groundswell was providing better sets across the coast today. Exposed breaks should be seeing 6ft sets, smaller as the swell wraps into the Bukit.
We'll see this swell drop back into tomorrow, with a low point in swell early Thursday morning ahead of our large and powerful S/SW groundswell.
This swell was generated by a vigorous polar low firing up south-east of Heard Island and south-west of Western Australia, producing a fetch of storm-force W/SW winds on top of an already active sea state.
The swell has filled in on forecast across Western Australia today and should build strongly through Thursday across Bali.
A large increase to 8ft is expected across exposed breaks into the afternoon with 10ft cleanup sets more than likely. The southerly direction will see smaller surf wrapping into the Bukit reefs.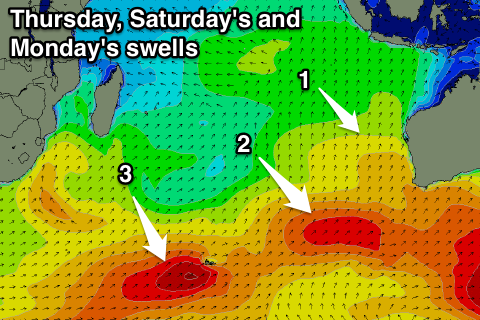 The swell should ease back overnight, dropping back from 6-8ft at exposed breaks Friday morning.
Our reinforcing S/SW swell for Saturday is still on track, generated by a strong mid-latitude frontal system currently pushing towards WA.
This swell will be a touch better in direction, but still S/SW and should see sets kicking back to 6ft+ across exposed breaks through the day before easing into Sunday.
A larger S/SW groundswell will then arrive for Monday, produced by two back to back frontal systems on a similar track to the current front south-west of WA.
With the back to back activity we'll see a larger groundswell generated as the second front moves over the active sea state generated by the first. Core wind speeds will be a touch stronger, generating a longer-period S/SW groundswell for Monday, coming in at 6-8ft+ in Bali.
Beyond this the Southern Ocean will go quite for a few days resulting in a steady decline in surf through the rest of next week.
The next pulse of swell may be seen late week, produced late in our southern swell window, but more on this Thursday.
Winds over the coming period are due to be variable each morning with weak SE trades into the afternoons (more so sea breezey). From early next week we should see the trades flurry a little, persisting all week favouring the Bukit reefs.
16 day Bali Forecast Graph
16 day East Java Forecast Graph
16 day Sumbawa Forecast Graph
Ments: Long-period S/SW groundswell energy should be hitting the regions south facing breaks today, with a slight drop due into tomorrow, bottoming out early Thursday.
The large long-period groundswell due across Bali will also arrive Thursday in the Mentawais but from a more S'ly direction.
A rapid increase in size is due from late morning/midday, kicking to 6-8ft across south swell magnets, easing from a slightly smaller size Friday morning.
The reinforcing swell for Saturday is also due across the Mentawai islands, keeping 5-6ft sets hitting exposed breaks into the afternoon before easing a touch Sunday.
Light variable winds should keep conditions clean throughout the coming week and weekend, similar into next week.
Now, the back to back fronts generating Monday's S/SW groundswell develop a touch further west and more in our swell window, helping to generate large surf. A peak is due through Monday morning to 6-8ft, easing back steadily through the rest of the week.
16 day Mentawai forecast graph
16 day Nias forecast graph
16 day South Sumatra forecast graph