Indonesia/Maldives forecast September 5th
Indian Ocean Basin analysis by Craig Brokensha (issued Tuesday 5th September)
This week through next week (Sep 6 - 15)
After a slow run of surf, we should be seeing a strong kick in large S/SW groundswell across the Indonesian region today and more so this afternoon/evening.
A peak is due this evening ahead of a slow easing trend through tomorrow afternoon and more so Thursday/Friday. The secondary pulse of reinforcing S/SW swell has been downgraded thanks to the secondary strong frontal system that was due to move up on the back of the first being much weaker in strength.
As per the last few months the weekends and early the following weeks look to be the low point in swell activity ahead of building surf later in the week.
This is the general trend for next week, apart from a small low forming west of Western Australia on Thursday this week, due to generate a moderate sized pulse of S/SW swell for later Monday, easing Tuesday.
Of greater significance is the activity developing south-east of South Africa and to the north of the Heard Island region next week.
We're looking at a slow moving, multi-staged frontal progression firing up in Indonesia's south-western swell window moving further east and north as it goes.
Each frontal system by itself isn't overly significant but the slow movement and back to back nature of the progression will see a series of large groundswells impacting Indonesia from later next week but more so into the following weekend and the week starting the 18th.
The models are mixing energy so it's tricky to decipher each pulse but don't expect surf to the size that the current models have.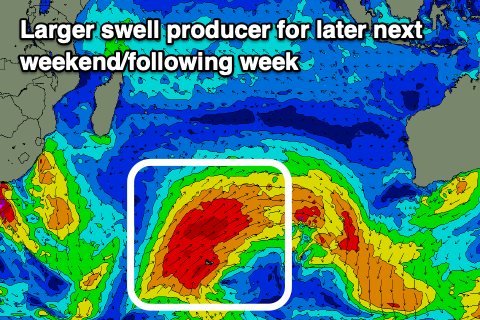 Looking west to the Maldives and a moderate sized pulse of S'ly groundswell is due to peak this afternoon, easing through tomorrow. We're also seeing a renewal of moderate + sized SE trade-swell which is peaking today and should slowly ease over the coming week and into the weekend thanks to relaxing trades throughout the Indian Ocean.
The swell looks to bottom out through the middle of next week from the SE before building again later week as trades strengthen again through the Indian Ocean.
The slow moving frontal progression bringing large swell to Indonesia from later next week is favourable for the Maldives with large surf also expected across the southern atolls from later Tuesday but more so Wednesday. We'll have a closer look at this in the next update.
Eastern Indonesia:
Large S/SW groundswell building today, reaching 8ft across exposed breaks by dark, easing from 6ft to occasionally 8ft tomorrow. Smaller Friday morning with a reinforcing mid-period S/SW swell slowing the easing trend into the afternoon and maintaining 5-6ft sets on the magnets.
Smaller Saturday, Sunday and bottoming out Monday morning.
Moderate sized S/SW swell arriving later Monday to 4-5ft across the magnets, easing Tuesday.
Large mix of SW groundswells for later in the week and beyond.
Moderate E/SE-SE trades (fresh for small periods), light and variable each morning.
Uluwatu 16-day Forecast Graph/WAMs
Western Indonesia/Mentawais/South Sumatra:
Mod-large S/SW groundswell building today, reaching 6ft to possibly 8ft across exposed breaks late, dropping from 6ft+ tomorrow morning.
Easing swell for the rest of the week with a small background S'ly swell pulse Saturday fading Sunday and bottoming out Monday.
Large mix of S/SW groundswells building later next week and persisting into the following weekend/week.
Strong S/SE-SE trades across southern regions, lighter to the north, slowly abating across all locations through the weekend, strengthening again next week.
Mentawai 16-day Forecast Graph/WAMs
Maldives:
New SE trade-swell for this morning to 5-6ft across the southern atolls (smaller Male), easing slowly this week and further into the weekend, bottoming out early-mid next week. Not getting below 3ft across the magnets,
Small, inconsistent background S'ly groundswell peaking this afternoon to 4ft across the southern atolls, easing from tomorrow.
Large S'ly groundswell building later Tuesday but peaking Wednesday next week to 6ft across the southern atolls (smaller Male).
Moderate S/SW-S winds across central and northern locations this week and weekend, S/SE-SE to the south. Winds tending more W/SW to the north on Friday.
W'ly winds across the central and northern atolls next week, SE to the south.