Good swells for all coasts over the coming period
Hawaii North Shore, Micronesia and PNG forecast by Craig Brokensha (issued on Thursday 7th March)
This week and next (Mar 8 – 14)
Hawaii: A building mid-period N/NE swell across the islands this afternoon which should have reached 3-4ft, and will ease from a similar size tomorrow morning.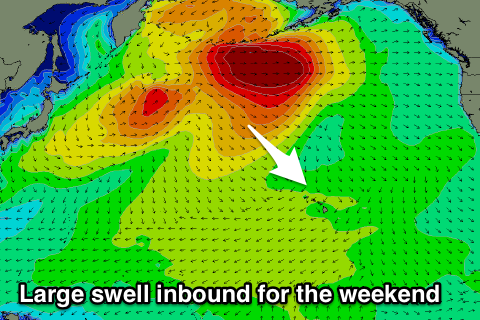 We look forward to our large long-period NW groundswell due to arrive later Friday and peak Saturday.
The low linked to this swell is now weakening across the Aleutians and we'll see the inconsistent but strong groundswell kicking later Friday but peaking Saturday to 10ft to possibly 12ft at swell magnets. Conditions will be good with gusty E/NE trades, similar Sunday as the swell starts to ease from 8ft+.
The secondary low that was mentioned in Tuesday's update is looking a little smaller in scope and faster moving. A quick burst of severe-gale W'ly winds will be generated on the edge of our swell window before tracking east-northeast along the Aleutian Island chain.
An inconsistent and moderate sized long-period NW groundswell will be produced, arriving Monday and building to 6ft or so later in the day, easing back from a similar size Tuesday morning.
Following this there's nothing too significant on the cards with a mid-period N/NW swell due into the end of the week to a similar size as Tuesday's swell, with a possible larger mid-period N/NW swell for the weekend, but more on this next update.
North Shore Forecast Graph
North Shore WAMs
Micronesia: Our N/NW groundswell for the weekend is still on track, with the north facing reef passes due to build to 3-4ft by dark, easing from 3-5ft Sunday morning.
As pointed out last update there's no significant N'ly swells for the rest of the period with building levels of E/NE trade-swell Tuesday/Wednesday, easing slowly from Friday but with gusty E/NE trades.
Try semi-protected breaks for a wave.
Palikir Pass Forecast Graph
Palikir Pass WAMs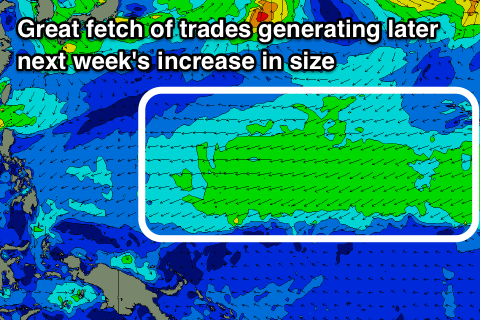 Papua New Guinea: Not much change to the outlook from Tuesday with persistent amounts of NE trade-swell to 3-4ft across exposed breaks with variable winds.
Late next week we're due to see a bit more size showing as the trades strengthen and move towards us through early next week.
Surf to an easy 5ft should be seen Friday, easing slowly from next weekend. There may be a brief change in winds later week, but more on this next update.